Here and home: Larry Sultan's vivid chronicles of California go on show at SFMOMA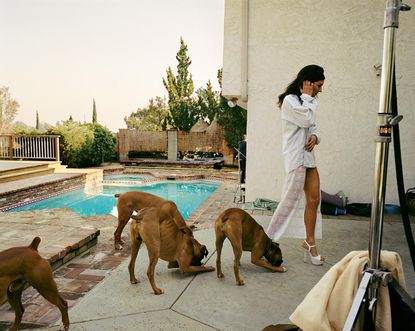 (Image credit: © Estate of Larry Sultan. Courtesy of Casemore Kirkeby and Estate of Larry Sultan)
From now until 23 June, the San Francisco Museum of Modern Art honours photographer Larry Sultan with a show titled 'Here and Home'. Until his passing in 2009, Sultan chronicled and re-imagined California through a medium of his own, combining visual and textual artefacts with photographs described as 'staged documentary'.
This compact yet broad-reaching retrospective brings back Evidence, the pioneering book project from 1977 that explored ambiguity and appropriation by taking archival government and corporate images out of context. 'This is the closest that Evidence has come to a correct installation, mimicking how they were laid out in the book,' says Mike Mandel, co-collaborator of the original project.
The exhibition also includes Pictures from Home (1983–92), which treats his parents' suburban home like a private anthropological study by recreating narratives through intimate portraits, interior photography, and personal belongings – including a letter to Sultan's father from his employer. The Valley (1997-2003), which began as commissioned work for a men's magazine, documents the porn industry of his home San Fernando Valley with behind-the-scene shots of film sets juxtaposed with deceptively monotonous details of a cookie-cutter home.
In addition to more than 200 photographs and an actual billboard, the display includes Study Hall, which takes a peek at his creative process through books, ephemera and touch screens displaying discarded images.
If you can't get enough of Sultan's work, catch a related exhibition happening at Minnesota Street Project in Dogpatch. Elsewhere, Casemore Kirkeby gallery presents his editorial and commercial projects, including a 2003 assignment for Walllpaper* in which he staged and photographed modern furniture on tacky adult film sets. Fake Newsroom, also available online (opens in new tab), is a timely tribute to Sultan and Mandel's early collaboration Newsroom (1983), in which the duo altered the meaning of real-time wire press photographs by presenting them in new sequences.
INFORMATION
'Here and Home' is on view until 23 July. For more information, visit the SFMOMA website (opens in new tab)
ADDRESS
151 3rd Street
San Francisco CA 94103