Les Lalanne's personal collection to go under the hammer
In October, a landmark sale dedicated to five decades of the French artist duo Claude and François-Xavier Lalanne's creativity will take place at Sotheby's Paris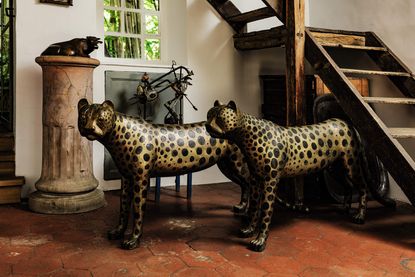 (Image credit: press)
They might not yet be household names around the world, but Claude and François-Xavier Lalanne – also known as Les Lalanne – have always been favourites of the creative elite, and their visionary oeuvre continue to inform tastemakers of today (Tom Ford, Marc Jacobs, and Bernard Arnault to name but a few).

Part of the reason Les Lalanne's legacy has still not fully been revealed is that the couple themselves remained influential within their bohemian circle: they created a dining table for Salvador Dalí and album covers for Serge Gainsbourg, while Niki de Saint Phalle, Max Ernst, Elaine Sturtevant and Jasper Johns were among their close friends. Large-scale exhibitions with international attention were few and far between – one of the only major retrospectives was at the Musée des Arts Décoratifs in 2010.
In October, a landmark sale dedicated to five decades of Les Lalanne's creativity will take place at Sotheby's Paris, interlaced with works by artist-friends of the duo. Facilitated by the couple's family, more than 280 items of furniture, sculpture, art and jewellery will arrive directly from their shared studio and home close to Fontainebleu, and 'every single piece embodies the creative genius of this mythic couple', according to Florent Jeanniard, head of 20th century design at Sotheby's.

Jeanniard explained that the sale – which is preceded by a global touring exhibition in New York, Hong Kong, London and Paris – will 'open the doors to the private world of Claude and François-Xavier Lalanne, from the motifs that inspired them and the artworks they chose to surround themselves with'. Their best known motifs drew the natural world: they created a veritable jungle of animals, flowers, vegetables and plants in cast bronze. Contemplative and curious, emotive and elegant, the couple never grew tired of nature, often drawing on what was growing in their own back garden. With the imminent threats of climate change their works have found a profound resonance with a new generation.
RELATED STORY
Although the couple shared a style that was radical in its reimagining of functionality, form and poetry, they didn't only work collaboratively. 'We were in tune with each other and yet also very distinct,' as Claude tactfully put it in an interview. The works going up for auction on 23 – 24 October will reveal the extent to which their practice was intertwined, but also the touches and details that differed between the two. Their relationship is captured in a portrait taken in 1976: Claude straddling an iron Minotaur sculpture built by François-Xavier – who leans poses playfully, leaning against the mythical creature's neck. It's a picture that captures the fantasy, frivolity and harmony of their creative dynamism.

Mario Tavella, president of Sotheby's France, describes Les Lalanne as 'a couple who hold today a fundamental place in the history of French art'. As such, the auction is set to be a record-breaker – a 2015 auction at Sotheby's Paris attracted almost €5m in sales.
INFORMATION
'L'Univers Lalanne: Collection Claude & François-Xavier Lalanne', 23 – 24 October, Sotheby's Paris. The touring exhibition will be on view in New York, beginning of September; Paris, 13 – 17 September; Hong Kong, 29 September – 4 October; London, 3 – 6 October; and Paris, 17 – 23 October. sothebys.com
Charlotte Jansen is a journalist and the author of two books on photography, Girl on Girl (2017) and Photography Now (2021). She is commissioning editor at Elephant magazine and has written on contemporary art and culture for The Guardian, the Financial Times, ELLE, the British Journal of Photography, Frieze and Artsy. Jansen is also presenter of Dior Talks podcast series, The Female Gaze.