La Maison Forestière by Simon Patterson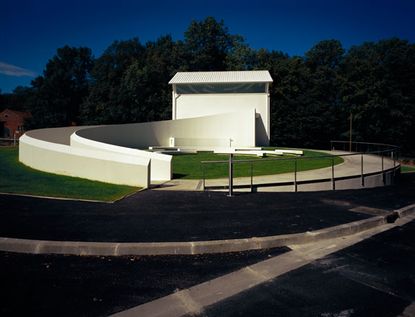 (Image credit: Simon Patterson)
Almost 100 years may have passed, yet the bleak plains of northern France are still remembered as the battlegrounds of World War I. This month, among the vast cemeteries and scattered war memorials, a new site has been unveiled. La Maison Forestière near the village of Ors is the place where British war poet Wilfred Owen spent his last night in 1918. Crammed into the house's dank cellar with 30 men, Owen wrote what would be his last words - a letter to his mother - before being killed in battle the next day, aged 25.
British artist Simon Patterson has transformed the house into a 'commemorative space'. Known for his work with text, the 1996 Turner Prize nominee was first approached by Lille-based organisation Artconnexion in 2004. 'I regarded the project with trepidation; I wondered if I was doing the right thing, whether I would be walking all over someone else's work,' says Patterson. 'But I felt obliged, as it was Wilfred Owen.' Like many British children, Patterson studied the poet at school and for this project he read hundreds of letters, poems and fragments of work by Owen.
Working with French architect Jean-Christophe Denise, he gutted the decrepit house to create one double height room and rendered the whole building white. A white circular walkway, engraved with extracts from Owen's final letter, connects the house to the cellar. From the road, the house looks like an artwork, its form loaded with symbolism. 'The roof resembles an open book; the white echoes the bleached bones of a skeleton,' says Patterson.
The artist was determined that the finished structure should be 'a living thing, rather than a monument', however. 'We had to leave the cellar alone, so we focused on the house and had the idea of turning it into a venue for poetry,' he explains. Inside, the walls are covered in glass panels, etched with fragments of unfinished or abandoned works and the manuscript of Owen's most famous poem 'Dulce et Decorum Est', taken from the British Library. British actor Kenneth Branagh and French actor Philippe Capelle were called upon to record 20 of Owen's best poems, which are also projected onto the walls on an hour-long loop.
'Deciding which poems to select was a huge challenge, but the order is carefully balanced and Branagh reads in a really modern way,' says Patterson, who is no stranger to working with metaphors and meanings. His best-known piece, 'The Great Bear', made in 1992, reworked the London Underground map, replacing the names of stations with those of philosophers, poets, saints and comedians.
For La Maison Forestière, Patterson set out to create 'a chapel-like space'. He succeeded. It is impossible to be inside the space and not be moved. The weight of Owen's words contrast with the lightness of the surrounds to create an other-worldly atmosphere.
Outside, an amphitheatre-like space is designed for on-site poetry recitals and readings, and there is talk of converting the redundant military barracks next door into studios for artists in residence.
Was it a challenge to create something so contemporary around someone so bound to his era? 'No, because Owen's poetry contains universal truths about the pity of war, which are as true today as they were nearly 100 years ago,' says Patterson. 'Such universal truths are what constitute all great art.'
Receive our daily digest of inspiration, escapism and design stories from around the world direct to your inbox
Emma O'Kelly is a contributing editor at Wallpaper*. She joined the magazine on issue 4 as news editor and since since then has worked in full and part time roles across many editorial departments. She is a freelance journalist based in London and works for a range of titles from Condé Nast Traveller to The Telegraph. She is currently working on a book about Scandinavian sauna culture and is renovating a mid century house in the Italian Lakes.