Jeremy Deller to adorn Arsenal Stadium in eight new collaborative works
Revealed today, eight new artworks by Jeremy Deller, Reuben Dangoor and David Rudnick will take over the façade of the Emirates Stadium. Deller tells us about the new commission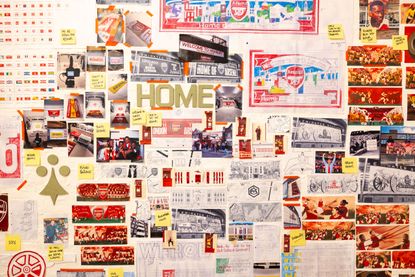 (Image credit: Courtesy Arsenal)
Turner-prize-winning artist Jeremy Deller's upcoming artwork commission at the Emirates Stadium, home to Arsenal FC, centre around the community of the football club, and intersect with the iconic signage.
For the eight pieces created for Arsenal, revealed today, Deller collaborated with fellow Arsenal fans, typographer David Rudnick and politically driven visual artist Reuben Dangoor to create works that look to the future, through handmade banners and reflections on historical events.
Installation of the artworks will begin on 12 January 2023 and will be completed over the coming weeks. An indoor public exhibition will run from 12 – 14 January.
'Always Forward': Jeremy Deller, Reuben Dangoor and David Rudnick create Emirates Stadium artworks
Since 2006, the Emirates Stadium in north London has been fronted by an image of an all-male team. In its Deller-, Dangoor- and Rudnick-led reimagining, the venue's exterior draws on a more diverse representation of fans and players.
Throughout the designs, Deller's motifs appear in variations of flags and signage, Eighteen Eighty-Six takes the club's founding year in a retro font, and Come To See The Arsenal sees bold typography, inspired by fonts on the club's former home in Highbury. The now Grade-II listed building is depicted elsewhere by Dangoor in two-tone, with Remember Who You Are, imagining the art-deco building filled with players across the ages and referencing historic Arsenal moments.
Deller, Rudnick and Dangoor's aim when embarking on the project was to ensure Arsenal fans were incorporated into the ideas process. 'I wanted to meet the fans and for them to be involved in this,' says Deller.
The works are 'an interpretation of supporters' passion and knowledge of all things Arsenal', and the creative team worked from this premise to design a unified image for the club. 'I'd like to think that these are not separate pieces, but a collaboration between the artists where 'finding a consistent story and representation of supporters was key'.
An exhibition, running from 12 – 14 January at Candid Arts Trust, will display the completed works as well as flags, handmade by banner maker Ed Hall and photographed as part of Eighteen Eighty-Six, Come To See The Arsenal, Found A Place Where We Belong and We All Follow The Arsenal.
The exhibition is open to the public from Thursday 12 January – Saturday 14 January, 10am – 4pm, at Candid Arts Trust, 3-5 Torrens Street, London, EC1V 1NQ
davidrudnick.org (opens in new tab); reubendangoor.co (opens in new tab); jeremydeller.org (opens in new tab)
arsenal.com (opens in new tab); jeremydeller.org (opens in new tab)
Martha Elliott is the Junior Digital News Editor at Wallpaper*. After graduating from university she worked in arts-based behavioural therapy, then embarked on a career in journalism, joining Wallpaper* at the start of 2022. She reports on art, design and architecture, as well as covering regular news stories across all channels.