Irma Boom goes 'Under Cover' at Slewe Gallery, Amsterdam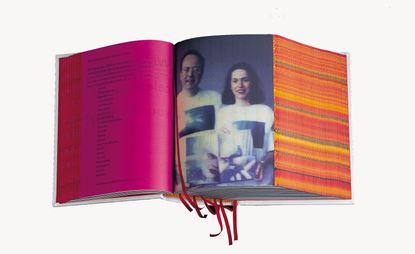 (Image credit: Slewe Gallery)
Acclaimed Dutch book designer Irma Boom has produced more than 300 books, a third of which are housed in collections from the Centre Pompidou in Paris to MoMA in New York and the Art Institute in Chicago. Following the opening of the 'Cuyperspassage' in Amsterdam, where Boom designed a 110-metre tile wall earlier this year, she is now attracting further attention in her hometown at Slewe Gallery.

Since 1994, Boom has been working with compatriot gallerist Martita Slewe, creating the gallery's identity and designing most of its catalogues, plus a book published in 2004 to mark its ten-year anniversary. Now, the gallery is staging an exhibition for Boom herself, entitled 'Under Cover'; and the designer has been invited to curate the show herself. 'Over the years, Irma slowly moved into a position of an artist,' says Slewe. 'She is now moving between the boundaries of art and design; a very interesting position.'

The exhibition, which opened on 12 March, comprises two parts. The first features 15 of Boom's own books – including some rare titles – together with a further 12 that she considers fundamental to her work as an artist. The 1996 commission from Dutch coal trader SHV, the 2,136-page SHV Think Book 1996–1896 that put Boom on the international map, is an essential choice; Weaving as Metaphor for the American artist Sheila Hicks – proclaimed 'The Most Beautiful Book in the World' by Leipzig Book Fair in 2006 – describes the tactile approach of Boom's works; the famously inkless white volume, No. 5 Culture Chanel, created for Chanel's 2013 exhibition at the Palais de Tokyo in Paris, showcases the unconventional nature of both the brand and the designer.

The second part of the exhibition sees the launch of Boom's Hommage à Kelly, designed as a tribute to her inspiration, Ellsworth Kelly, who died last December. The 1,216-page volume of pure colour blocks concealed in a black box is a limited edition of 99 copies, signed and numbered in pencil – more than half have already been bought by collectors.
INFORMATION
'Under Cover' is on view until 16 April. For more information, visit the Slewe Gallery's website (opens in new tab)
ADDRESS
Slewe Gallery
Kerkstraat 105-A
1017 GD Amsterdam
VIEW GOOGLE MAPS (opens in new tab)
Yoko Choy is the China editor at Wallpaper* magazine, where she has contributed for over a decade. Her work has also been featured in numerous Chinese and international publications. As a creative and communications consultant, Yoko has worked with renowned institutions such as Art Basel and Beijing Design Week, as well as brands such as Hermès and Assouline. With dual bases in Hong Kong and Amsterdam, Yoko is an active participant in design awards judging panels and conferences, where she shares her mission of promoting cross-cultural exchange and translating insights from both the Eastern and Western worlds into a common creative language. Yoko is currently working on several exciting projects, including a sustainable lifestyle concept and a book on Chinese contemporary design.