Inez van Lamsweerde and Vinoodh Matadin, Amsterdam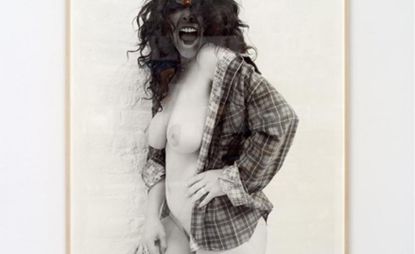 (Image credit: press)
Inez van Lamsweerde and Vinoodh Matadin don't like to play it safe. The Dutch duo were among the first photographers to exploit digital manipulation while Photoshop was in its infancy in the 1990s, distorting body parts and manipulating backgrounds, and their vast oeuvre swings between horror and beauty, the subtle and the grotesque. This makes the 300 images in their latest show at Foam Fotografiemuseum a thrilling mix.
Titled 'Pretty much Everything', the exhibition spans the length of their partnership, which began in the mid-80s. Their careers first spiralled when they took over ten pages in the now closed magazine, The Face, in 1994. For the first time in a fashion series, the models and the backgrounds were photographed separately and combined in a single image via a computer. This toying with reality typifies their work, which has always subverted, as well as celebrated, fashion.
On show are some of their iconic personal images, like 'Me Kissing Vinoodh (passionately)', a huge stream of campaigns for the likes of Chanel, Gucci, Louis Vuitton, Balmain and Chloé, and their collaborations with artists such as M/M Paris, sculptor Eugene van Lamsweerde and theatre group Mug Met De Gouden Tand.
ADDRESS
Foam Fotografiemuseum Amsterdam
Keizersgracht 609
1017 DS Amsterdam