Ian Davenport's colourful line-up at Waddington Custot Galleries in London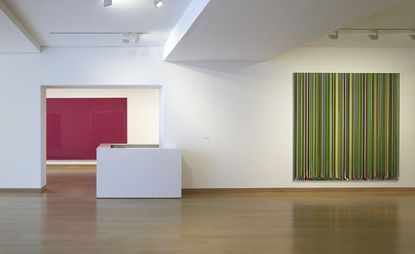 (Image credit: TBC)
Wallpaper* Newsletter
Receive our daily digest of inspiration, escapism and design stories from around the world direct to your inbox
Thank you for signing up to Wallpaper. You will receive a verification email shortly.
There was a problem. Please refresh the page and try again.
If Ian Davenport is the quiet man amongst the YBAs - he was one of the sixteen artists to show at the Damien Hirst-curated Freeze show in 1998 - he can make a couple of claims that his louder peers can't compete with. He was the youngest ever nominee for the Turner Prize in 1991. And his 48-metre long Poured Lines, underneath Western railway bridge in Southwark, just south of Blackfriar's Bridge, is the largest public art work in London and one of the largest in Europe. He also designed a limited edition cover for Wallpaper* way back in September 2006, although quite a few of the YBAs can make that claim.
His first solo show was at London's Waddington Galleries in 1990, just two years after graduating from Goldsmiths College of Art. And almost a quarter of a century later, the gallery, now Waddington Custot, is presenting the career-spanning show 'Colourfall'.
The earliest work in the show is 1989's Satin Black on White from the Bottom to the Top; a series of straight scrawls created with a nail on a stick. It's early evidence of Davenport's technical experimentation and fascination with line, sequence and rhythm.
Davenport uses syringes to apply glossy paint in his ongoing poured stripe series which, he has latterly allowed to puddle and blend at the bottom of the canvas. He is now using this method to produce abstract studies of iconic paintings. And included in the exhibition is Colourfall: Holbein which takes, stretches and straightens the colour scheme of the Holbein's The Ambassadors (it is mostly green. He has done similar with Van Gogh, mostly blue, and the Simpsons, mostly sky blue and yellow, though they don't appear at the show).
The stripe paintings have become Davenport's signature dish and perhaps, for all their stuttering, pulsing, energy, suffer a little from over familiarity (especially if you cycle past Poured Lines every working day). The giant glossy arches from his Poured Painting series seem then a far more powerful presence at the show, looming and lovely.
The show coincides with the publication of a new monograph from Thames & Hudson with 200 colour images and an introduction by Davenport's friend and fan, Damien Hirst.
ADDRESS
Waddington Custot galleries
11 Cork Street
London W1
Receive our daily digest of inspiration, escapism and design stories from around the world direct to your inbox