How a crisis propelled the art world into a new virtual reality
In the wake of the Covid-19 outbreak, galleries and art fairs have seen virtual reality rapidly transform from a creative testing ground to the status quo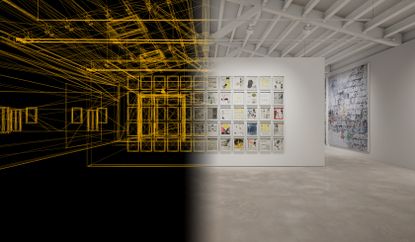 (Image credit: Courtesy the artists and Hauser & Wirth)
In that happier alternate reality where Covid-19 had not sprout and spread, or was at least contained and quashed, the art industry's travelling circus would this week have pitched up in New York and made a fantastic spectacle of itself. There won't now be spectacle or socialising. There will though be a fair of sorts and, crucially for Frieze and its gallery clients, sales.

The Frieze New York team had been plotting a virtual version of the fair before the Covid-19 outbreak, a first for Frieze, and that has been smartly retooled. 'It was meant to be a nice addition to the physical fair,' says Loring Randolph, director of Frieze New York, 'an opportunity for galleries to show off special projects or just pieces they couldn't physically show. But as soon as it became clear we would have to cancel the physical Frieze New York we just changed the whole structure and how you would look at the galleries. And it was really led by the galleries.' What was planned as side-show is now the main, indeed only, event. 'We have essentially recreated all of the regular programming,' Randolph says.
Frieze Viewing Room is an augmented reality replacement fair with 200 galleries able to display 30 pieces apiece. What's on offer is not a simulacra stroll from booth to booth but virtual visitors will be able to see pieces in virtual spaces. And if they are viewing on a smartphone, digitally install a piece in their own home.
Randolph says the virtual fair will see the same flurry and flutter of sales, just that they will happen over the phone, e-mail, Zoom or similar. And that the launch of Frieze Viewing Room has generated the same levels of excitement and pre-fair jitters. 'Building up to this has felt almost exactly like the lead into the actual fair. There has been the same energy so I guess we must be doing something right.'
As in other areas, the Covid-19 outbreak has accelerated and amplified existing trends. There was already a push, mostly from the galleries, to make the art fairs more digitally visible and accessible. And the now digital-only fairs are also making the market more transparent. Prices and price guides will be clearly marked for most of the works in the Frieze Viewing Room, as they were at the digital version of Art Basel Hong Kong earlier in the year. This will make life a lot easier for younger and first-time collectors perhaps too intimidated to even talk prices at physical fairs. 'It hasn't been that easy for a newer generation of collectors trying to find things at a specific price point,' admits Randolph. 'But now you can easily look for works that are less than $10,000, do a search and see everything available from every gallery that's participating in the fair. And actually, I get kind of addicted to looking at it because there is just more market transparency. We made sure that the price field shows up in the thumbnail images.'
The major commercial galleries are also shifting their experiments in AR and VR from side-project to centre stage. Hauser & Wirth co-founder Iwan Wirth says he first started pushing experiments in VR two years ago. Or rather the gallery's artists started pushing him. 'We really started to be questioned and challenged by our artists. And then Paul McCarthy did some work with virtual reality that really blew me away. That was a real game-changer. And at the same time, Mark Bradford talked to me about VR as a tool for planning and visualising exhibitions. So last summer we created ArtLab, a kind of internal task force to look at digital innovation within the gallery.'
ArtLab set out to create a new VR tool to help artists plan shows in specific Hauser & Wirth spaces. That tool though has been smartly turned outwards to become HWVR. Its first outing is a VR exhibition at Hauser & Wirth's Menorca art centre, a Balearic take on Hauser & Wirth Somerset which is actually still under construction and won't open until next year.
ArtLab Inaugural HWVR Exhibition Trailer, 'Beside Itself', Hauser & Wirth Menorca. Features Louise Bourgeois, Maman, 1999. © The Easton Foundation/VAGA at ARS, NY Courtesy Hauser & Wirth
'Beside Itself', which includes virtual versions of works by Bradford, McCarthy, Louise Bourgeois, Jenny Holzer, Lorna Simpson and more, launched last week. Wirth says the gallery's new VR platform pulls together technologies usually used in architecture, construction and video-game design, building up VR imagery on a pixel-by-pixel basis. 'We aren't re-inventing the wheel,' says Wirth, 'but we have taken three technologies to build a new wheel.'
At the end of March Oliver Miro, the son of London-based gallerist Victoria Miro, announced the launch of another 'extended reality' art platform tagged Vortic. Three years in development, Vortic also promises a new level of viewer experience and offers galleries the chance to create new virtual gallery spaces, or have their own 3D-scanned, and create digital versions of physical exhibitions or digital-only exhibitions. Miro says galleries will even be able to create bespoke virtual exhibitions for individual collectors. The Vortic Collect app will allow collectors an AR view of exhibitions while Vortic VR will allow for a more immersive experience using Oculus VR headsets. The technology will have its first major showcase with a Vortic-only exhibition put together by Victoria Miro and David Zwirner launching next week.
Like Wirth, Miro hopes that VR technology will eventually help galleries cut down on shipping costs. And Miro suggests his new technology is convincing enough that collectors will make serious investments on the basis of Vortic-only viewing. 'As collectors become more comfortable with the digital viewing experience, I think they will be confident making acquisitions without seeing the artwork in person. That's certainly the initial feedback we've had.'
For now, Wirth isn't thinking of HWVR as a commercial tool, but simply as a way to take you somewhere new and different in a different way. And who doesn't need that right now? 'We're all increasingly frustrated with the online experience and I'm no exception. And we don't for a second believe that this will replace anything, it just adds something. It gives an indication of where we might go with this, what this tool can do. But at the moment it is just a way to try and give people some joy.'
INFORMATION