Glass House by James Welling, NYC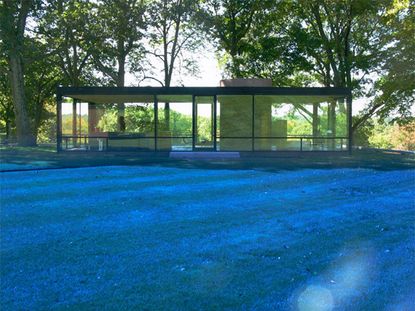 (Image credit: Courtesy David Zwirner, New York)
American artist James Welling is to open an exhibition of new photographic work at New York's David Zwirner Gallery this month.
Welling's fifth solo show at the gallery, 'Glass House' features a series of photographs of Phillip Johnson (opens in new tab)'s iconic modernist residence, taken over the course of three years, between 2006
to 2009.
Taken with a digital camera, Welling used coloured filters - alongside flawed, fogged and tinted sheets of glass - to produce lucid interpretations of Johnson's 1949 structure.
Embodying the artist's experimental style - Welling has been known to use crumpled aluminum foil, draped velvet, pastry dough, and gelatin in his photography - the 'Glass House' series is an elegant refraction of the photographic elements; light, movement and colour.
Motivated by an enduring interest in the notion of trichromatic (RGB) perception – first demonstrated in his 2005 'Hexachrome' series – Welling produced the large-scale 'Glass House' photographs using an inkjet printer.
Featuring the Lake Pavilion; Lincoln Kirstein sculpture and the Brick House – all of which are set within the Glass House estate - Welling says of the structure 'it's this big glass box, plonked in the middle of the Connecticut landscape, which seems like a conceptual sculpture - a giant lens in the landscape'.
ADDRESS
David Zwirner Gallery
525 West 19th Street
New York
NY 10011
VIEW GOOGLE MAPS (opens in new tab)