'Fictions' by Filip Dujardin at Highlight Gallery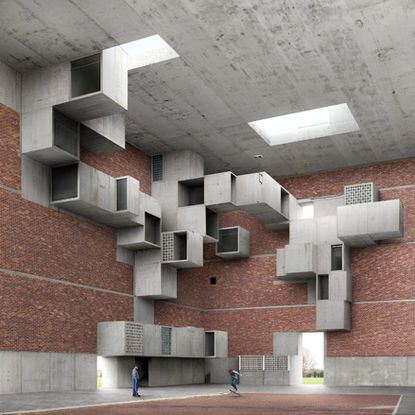 (Image credit: Filip Dujardin)
Look at Filip Dujardin's images and you can't help but try to read them like any other building - to attempt to make sense of the jumble of concrete, the odd proportions and the improbable angles. But you soon realise that you can't. The Belgian artist shoots real buildings and masterfully abstracts them to create his extraordinary 'Fictions'. Freed from building and engineering restraints, his structures have a strangely mesmeric pull.
Dujardin began photographing architecture in a conventional fashion, after studying at the Academy of Ghent, but soon felt an urge to control the aesthetics of his subjects. Using the wonders of Photoshop, he erases windows and doors, changes proportions of columns or roofs, and then uses his large digital archive of concrete walls, patinas and architectural details to create his futuristic, non-functional forms. For extra plausibility and a sense of scale, he often adds details like a man standing in front of building holding a briefcase.
A satirical take on the relationship between utopian ideas and visionary architecture, the Fictions series is on show at San Francisco's new Highlight Gallery until 24 August. Catch the exhibition while you can.
ADDRESS
Highlight Gallery
3043 Clay Street
San Francisco, Ca 94115
Receive our daily digest of inspiration, escapism and design stories from around the world direct to your inbox
Malaika Byng is an editor, writer and consultant covering everything from architecture, design and ecology to art and craft. She was online editor for Wallpaper* magazine for three years and more recently editor of Crafts magazine, until she decided to go freelance in 2022. Based in London, she now writes for the Financial Times, Metropolis, Kinfolk and The Plant, among others.