Quayola x LG OLED bring digital Impressionism to Frieze London
Quayola x LG OLED present Jardins d'Été, an immersive work that mixes Old Masters' florals with super vivid 4K technology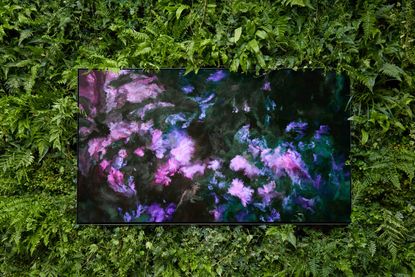 (Image credit: LG OLED)
In partnership with LG OLED
Presented in partnership with LG Electronics (LG), Jardins d'Été is an algorithmically generated experience created by London-based Italian artist Quayola at Frieze London 2023 (11 – 15 October). Brought to life by the vivid brilliance of LG OLED digital canvases and paying homage to French Impressionism (particularly the late works of Claude Monet), the series of videos and prints showcases the synergistic potential of art and technology.
Quayola conceived Jardins d'Été as an immersive work depicting the nocturnal blossoming gardens at Château de Chaumont-sur-Loire, France, using the complexity of floral formations moved by the wind as a dataset to generate new computational paintings. The series investigates the ways in which nature is observed and synthesised, which in the 19th century served as a point of departure toward total abstraction. Speculating on the traditions of landscape painting, the work 'explores a hybrid substance between the pictorial and the algorithmic' says Quayola, all presented in crystal clear 4K via LG OLED's premium picture quality.
Renowned for his harmonious fusion of computer programming and classical art, Quayola employs modern technology as a lens through which to explore the tension and balance between seemingly opposing forces, such as the real and artificial, figurative and abstract, old and new. Engaging with an extensive technological apparatus to precisely capture subtle nuances beyond human perception, the artist uses ultra-high-definition cameras and custom computer software to view natural landscapes through the 'eye' of a machine; a process that serves as a counterpoint to the subjective, human optical organ. Through this unique approach, Quayola creates hybrid compositions with historical aesthetics like landscape painting and classical sculpture, fostering artistic exploration and discovery with vibrant and mesmerising displays.
'Jardins d'Été explores a hybrid substance between the pictorial and the algorithmic,' says Quayola. 'The complex tones and palettes in this series are perfectly enhanced by LG OLED's canvases, their exceptional picture quality blurring the lines between the digital and the physical.'
'We are pleased to engage in a captivating collaboration with a talented artist like Quayola,' adds Kate Oh, vice president of the Brand Communication Division at LG Home Entertainment Company. 'Together, we aim to redefine artistic boundaries, blending art and technology in ways that captivate and inspire audiences, as showcased in our exhibitions and collaborative efforts. LG OLED upholds its motto, "We Inspire Art", supporting artists in unlocking their creative potential and giving inspiration for the evolution of digital art.'
LG continues to push the boundaries of artistic exploration, spotlighting the compelling synergy between art and technology through engaging exhibitions and collaborations with inspiring artists.
To follow the artistic journey with LG OLED ART, visit the website or Instagram account to experience the latest captivating art collaborations.
Jardins d'Été by Quayola x LG OLED is at Frieze London, 11 – 15 October, Regent's Park NW1 4LL
Receive our daily digest of inspiration, escapism and design stories from around the world direct to your inbox