Madelon Vriesendorp's 'sculptural interventions and playful ideas' at The Cosmic House
A Madelon Vriesendorp exhibition opens at The Cosmic House in London, surprising and delighting visitors with its 'sculptural interventions and playful ideas'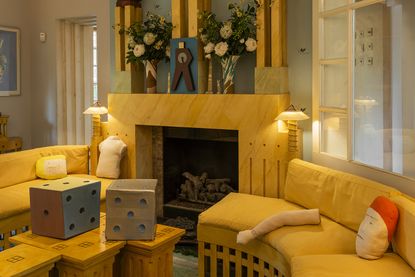 (Image credit: Thierry Bal)
Wallpaper* Newsletter
Receive our daily digest of inspiration, escapism and design stories from around the world direct to your inbox
Thank you for signing up to Wallpaper. You will receive a verification email shortly.
There was a problem. Please refresh the page and try again.
As you look from the street into the window of The Cosmic House in west London, a motionless dog stares back. Inside, a giant foot stops a door shutting. An eye stares back from an open drawer. An egg has transmogrified into a drowning Ted Cruz. A tongue sticks out of another eye. Two hands protrude from the wall, pointing at a series of illuminated caricatures sitting atop a bookshelf opposite. Things are not what they seem in The Cosmic House. Bulging with beguiling sculptural interventions and playful ideas from Dutch artist Madelon Vriesendorp for her exhibition 'Cosmic Housework', it is an exploratory laboratory of uncanny discovery.
Madelon Vriesendorp at The Cosmic House
The drawings, sculptures, and fascinating collection of found objects that Vriesendorp has secreted within the home built by Charles and Maggie Jencks – already an idiosyncratic and extraordinary property – offer a rich interplay with the existing interiors and collection. As a domestic space, Cosmic House was a built exploration of the postmodernist theory, garden design, and linguistic ideas the Jencks developed over their distinguished careers. Since 2021, it has been reimagined as a space of playful and critical experiment and research into the rich cosmos of ideas the Jencks and their celebrated coterie of friends conjured in the building.
Vriesendorp was part of that coterie. A co-founder of OMA, alongside then-husband Rem Koolhaas, her aesthetic and illustrative skills formed the imagery and visual language of the architectural practice. At one dinner, Jencks passed around a plasticine model of his design for his Parco Portello garden in Milan. 'Its curve was wrong, it was horrible,' Vriesendorp recalls, explaining how she cut straight into the model to improve it. He invited her back the next day to work with him on the garden schemes; her models and rich illustrations are on display in one of the two curated presentations of her work in the house.
The other is in what was once Maggie's study, now crammed with a joyous display of the Vriesendorp's sketches, models, and games. But these two curated spaces only make up a small part of the vast collection of works spread across the house, buried into nooks and presented in unexpected places to riff off the Jenckses' collection.
Many pieces utilise discarded materials, reimagining them into new life. Plastics Surgery is a lockdown project of repurposing plastic milk containers into bizarre and beautiful characters, including those above the bookshelf, such as an enormous dragon, and, in the Jenckses' jacuzzi, a family of plastic swans. A turquoise limbless and headless body looks out from the Jenckses' bedroom, wearing nothing other than a necklace made from printer cartridges.
Materials transform, but so do words. There is an evident affinity and love of words, punnery, and metaphor in the works of both Charles Jencks and Vriesendorp. Sometimes this is obliquely nuanced, other times more obvious, as with the 'handelier' hanging above the main staircase, a light fitting formed of card hands pointing downwards.
In the library, two large sculptural characters sit aside a chessboard – but instead of the pieces, they are battling over three books written by Jencks, including The Story of Post-Mondernism, adorned with Vriesendorp's cover design. One wonders if the two chess players are Jencks and Vriesendorp themselves.
Elsewhere, a series of sketches of 20th-century buildings as cartoon situations, some of which were included in Jencks' books, are presented. Frank Gehry's designs transposed as Marilyn Monroe's dress, a mermaid, and a handkerchief speak to the joy of their collaborations. 'He was talking, and I was drawing, he read something and I drew something else,' the artist says of their process, evidently full of as much joy as intellect. 'We inspired each other, and we laughed so much.'
'Cosmic Housework' runs until 31 May 2024, jencksfoundation.org
Receive our daily digest of inspiration, escapism and design stories from around the world direct to your inbox
Will Jennings is a writer, educator and artist based in London and is a regular contributor to Wallpaper*. Will is interested in how arts and architectures intersect and is editor of online arts and architecture writing platform recessed.space and director of the charity Hypha Studios, as well as a member of the Association of International Art Critics.