Universal Everything to debut VR experience at Sundance Film Festival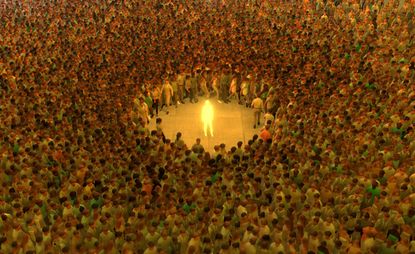 (Image credit: TBC)
Wallpaper* Newsletter
Receive our daily digest of inspiration, escapism and design stories from around the world direct to your inbox
Thank you for signing up to Wallpaper. You will receive a verification email shortly.
There was a problem. Please refresh the page and try again.
A virtual reality adaptation of Universal Everything's open-world crowd performance Emergence will have its world premiere at the 2019 Sundance Film Festival, presented by Within as part of the New Frontier showcase of experimental media works. The original piece – which currently forms part of the UK-based art and design studio's solo show at Istanbul's Borusan Contemporary (on view until 17 February) – 'expresses the primal desire to maintain your individual identity while being part of a crowd'.

In the interactive version, the audience is invited to take control of a glowing protagonist surrounded by an anonymous swarm of thousands that react to the character's every movement, traversing through surreal backdrops that recall natural and manmade environments. Emergence continues Universal Everything's exploration into VR following Inside the Sound, a series of 360° audiovisual environments released at the end of 2018, as well as its ongoing investigation into the human form and movement in digital art.
'Emergence is striking example of a next generation artist using algorithms and high powered real time graphics processing as their paint and canvas,' explains Within CEO and co-founder Chris Milk, who established the virtual and augmented reality storytelling firm with the aim of bringing 'the highest caliber of immersive experiences' to a wider audience. Milk first met Universal Everything's Matt Pyke in 2016 after they both exhibited in the Barbican's 'Digital Revolution' exhibition: 'Matt makes things digitally that feel incredibly organic and human, with just the right amount of LSD thrown in for good measure.' With Emergence, being alone in the crowd certainly has never seemed so appealing.

We caught up with Universal Everything founder and creative director Matt Pyke to find out more...

Wallpaper*: Did you envision Emergence evolving into a VR work from the beginning of the project?
Matt Pyke: The project started as software based improvisation. We coded a custom crowd simulation, which became the basis for a number of experiments. The first was Disciples, which humanised your Twitter followers, revealing the people behind the usernames. From this we observed the elegant human behaviours emerging, and developed a series of scenarios where the crowd is influenced by your avatar's movements. The crowd follows you, mimics you or avoids you. A happy accident lead us to switch into VR mode, and this was our eureka moment – Emergence found its perfect medium, immersing the viewer amongst the crowd.
RELATED STORY
The project is described as showing '5,000+ intelligent human behaviours'...
Our work often depicts abstracted human forms and movements, using a single figure or a duet. Now, with today's graphics technology we can expand into choreographing an entire crowd. By programming each crowd member with intelligent behaviours – such as avoidance, following or mimicry – we can reveal elaborate patterns of human behaviour at a huge scale.

Do users have a particular goal to reach with their avatar?
We left the goal intentionally open: you arrive surrounded by the crowd and, as you walk around freely, the environment begins to react. Colossal beams of light tower up to the sky, tempting you like a moth to a flame. If you do walk into the beam of light, your world is transformed into a new scenario – new crowd behaviours, dramatic coloured lighting and a corresponding soundtrack all combine to form a series of emotional contrasts, altering the relationship between you as an individual and your fellow 5,000 followers. You control your avatar from a drone-like point of view, allowing a wide angle survey over the crowd so that you can appreciate the behaviours fully.
The soundtrack by Simon Pyke is especially enthralling.
We worked together to develop a soundtrack to amplify the sense of mass human collaboration with an almost spiritual intensity. Simon developed layers of vocal cycles, sampled from remote field recordings of tribes.

What can viewers at Sundance Film Festival expect?
The strongest response so far from early viewers has been one of awe – of a powerful experience which derives from an instinctive love or fear of crowds. It has been suggested that exposure to crowds could have a therapeutic benefit, for people who struggle in crowded spaces. We hope that this response with continue at Sundance and provoke thinking about how VR can be used to enable us to step into our fears, in a safe environment.

The studio has recently increasingly dabbled in VR, for example with the Inside the Sound audiovisual environments. Do you see it becoming more central to your practice?
We have created many physical video immersive experiences, where visitors 'step into the screen'. Now we can use VR to expand our ambitions infinitely – with no constraint on immersive scale, the potential for multi-sensory experiences is huge. Our goal is to create digital spaces which contribute to people's wellbeing, help them face their fears, and transform their worldview.
Sundance Film Festival runs from 24 January until 3 February. For more information, visit the Universal Everything website and Within website
Receive our daily digest of inspiration, escapism and design stories from around the world direct to your inbox