Master of plaster: Elisabeth Frink remembered at Hauser & Wirth Somerset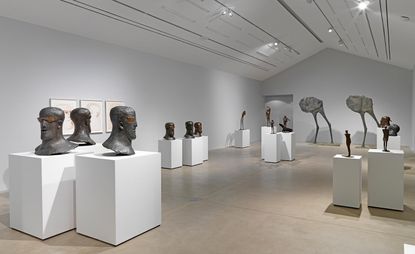 (Image credit: © The Frink Estate. Courtesy of Hauser & Wirth. Photography: Ken Adlard)
A 13-year-old Elisabeth Frink was walking along the coast in Exmouth with school friends, when machine-gunned German warplanes descended, dropping bombs above her head. Torn so violently from childhood, the traumatic encounter left an ineradicable impression on Frink.

The memory of personal and collective trauma – the Second World War, the hydrogen bomb – would preoccupy Frink in her work as a sculptor over 40 years, in more than 400 sculptures she produced (she only had an assistant once, to complete her last and largest work, The Welcoming Christ at Liverpool Cathedral). She is perhaps, Britain's most successful underrated artist, but now, her work is beginning to receive the recognition and study it deserves.
'Perhaps it's difficult to talk about the things humans are capable of, but if you mix man with beast, you can start to address some of those thoughts in a more compelling way,' says Annette Ratuszniak, curator of the Frink Estate, who worked closely with Hauser & Wirth Somerset's Senior Director, Alice Workman to put together the first major exhibition of the artist's work in the UK, at Hauser & Wirth Somerset, close to Frink's Dorset home and studio where she worked up until her death in 1993.

Focused on the early period of her work – sculptures and sketches from the 1950s and 1960s – the exhibition touches on the cathartic nature of the process of sculpting, and brings together some of Frink's motifs: birds and bird-like figures, eyes and heads. Imposing, dark and heavy looking, it's hard to imagine that these works were produced at the time the world went pop.
Yet Frink wasn't really an 'age of anxiety' artist. Her son, Lin Jammet, who also collaborated on the exhibition, remembers his mother as a 'natural socialite', a joyful person who frequented Finch's, a popular drinking hole for artists on the Fulham Road in the 1960s, 'a proper pub with sawdust on the floor, the sweet aroma of ale and tobacco bellowing out every time someone entered or came out.'

Through sculpture, Frink imagined all forms – human and animal – as malleable, bringing about transformations through plaster. In reshaping the world in her studio, she also saw the vulnerability of the human form – relevant in our tumultuous times, just as much as it was in Frink's own.
INFORMATION
'Transformation' is on view until 7 May. For more information, visit the Hauser & Wirth website (opens in new tab)
ADDRESS
Hauser & Wirth Somerset
Durslade Farm
Dropping Lane
Bruton
Somerset BA10 0NL
VIEW GOOGLE MAPS (opens in new tab)
Charlotte Jansen is a journalist and the author of two books on photography, Girl on Girl (2017) and Photography Now (2021). She is commissioning editor at Elephant magazine and has written on contemporary art and culture for The Guardian, the Financial Times, ELLE, the British Journal of Photography, Frieze and Artsy. Jansen is also presenter of Dior Talks podcast series, The Female Gaze.