Dhaka Art Summit 2014: ahead of its opening this week, we talk to artistic director Diana Campbell Betancourt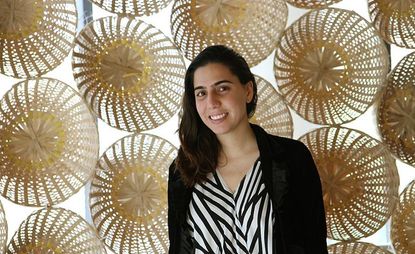 (Image credit: Rana Begum)
Wallpaper* Newsletter
Receive our daily digest of inspiration, escapism and design stories from around the world direct to your inbox
Thank you for signing up to Wallpaper. You will receive a verification email shortly.
There was a problem. Please refresh the page and try again.
Contemporary art's international circuit of openings, fairs and biennials grows ever more complex and global in stretch. Last year the Samdani Art Foundation, founded in 2011 by young Bangladeshi collectors Nadia and Rajeeb Samdani, pushed a new city onto the itinerary with the launch of the Dhaka Art Summit.

This year, under the direction of young Indian curator Diana Campbell Betancourt, it has become an essential stop-off. The three-day event, opening at the Bangladesh Shilpakala Academy this week (7 to 9 February), will showcase art and artists from across South Asia, including India, Pakistan, Sri Lanka, Nepal and Afghanistan, as well as Bangladesh. Fourteen artists will present major (mostly) new solo projects and India is inevitably strongly represented, by the likes of Shilpa Gupta and Jitish Kallat. Others showing include Pakistani artist Rashid Rana and Bangladesh-born British artist Rana Begum (See W*153). The programme also includes curated exhibitions, a public art project and a series of talks and film screenings.

Mumbai-based Campbell Betancourt is becoming a real force across the region, working with well-funded local collectors to create ambitious public art programmes. She worked with Creative India Foundation and Shilpa Gupta to create a monumental light sculpture, 'I Live Under Your Sky Too' in Mumbai and is now working on developing India's first sculpture park. We spoke to her about this year's summit, the Bangladeshi art scene and other things to do in Dhaka.

W: This is your first year as director of the summit. It looks like a lot of hard work?
Diana Campbell Betancourt: Yes, but the wonderful thing is that a lot of the projects are new commissions. And internationally established artists don't have many opportunities to show in this part of the world, so they have all put forward these crazy projects.

And you were behind the commissioning?
Yes, and I have been really lucky in that the Samdanis have been so open-minded to this. With Shilpa Gupta for instance, she has been interested in border politics for a really long time so she wanted to travel the Bangladesh/India border. There are pockets of India that are in Bangladesh and pockets of Bangladesh that are in India, if that makes sense, and they have their own economies and ways of operating. So we just gave her an amount of money and said 'go travel and figure out what you want to do'. We just knew that she had an idea and she would come up with something. It is very rare that someone is so open in the commissioning process.

So the Samdani Foundation funds research and production?
Yes. The great thing is that afterwards, they don't own these works, they belong to the artist. If they want to buy them, they will buy them through the gallery, so it's not a way for them to collect incredible works on the cheap.

Why is this a summit rather than a fair or a biennial?
I think it means it's a place to bring people together for a short period of time. It's only three days. And most biennials, you have to pay to get in. This is free to the public. It is also free for the galleries. There are 33 galleries showing and they are by invite only but there is no booth cost. The costs are born by the Samdani Foundation.

Are they selling work?
They are but there isn't really a market for this kind of work in Bangladesh. So maybe they will sell to institutions that are visiting. The Tate is sending people, as are many of the international institutions. So the brief that I gave the galleries was to show works that curators from institutions might be interested in.

Part of the reason that the Samdanis wanted to support this is that there is no representation system with galleries in Bangladesh. Artists have to develop their career on their own. There is no professional development or investment or mentoring on the part of the galleries. The Samdanis thought that if they could bring in more professional galleries from around the region, then maybe that would inspire local galleries to adopt similar practices.

Are there just no galleries in Dhaka?
There are but they are more like shops for art, if that makes sense - there is no long-term engagement. And most people are buying Bengal masters. They are not buying emerging contemporary artists. Artists don't really have studios here - they work out of their homes and they have to have other jobs like being teachers or fabricators.

So you can encourage the development of a supportive art infrastructure by showing what is possible?
Yeah. And there are lots of issues about travelling with visas and things like that. So even if you have the money, it might not be possible to go and see the Venice Biennale, for example. The idea is to bring the best to Bangladesh. Rajeeb is 39 and Nadia is 31. And there is a new generation in Bangladesh that might be interested in art if they lead by example.

And the point of the summit is primarily to talk to institutional curators rather than gallerists or collectors or dealers or critics?
Yes, there is a huge list of international curators coming and it is really encouraging to see that all these people have an interest in art from South Asia. And the reason why Rajeeb is on all these museum committees is that when people talk about building South Asian collections they normally mean India and Pakistan. Bangladesh rarely gets into the picture, let alone Sri Lanka, Nepal and Afghanistan.

Is there a generation of younger Bangladeshi artists coming through and are they doing something distinctive?
There is actually a strong tradition of photography in Bangladesh and some of the younger artists are taking this photography background and making really interesting videos. To support them, there is the Samdani Art Award for an artist under 40 and the winner will spend a three-month residency at the Delfina Foundation in London. We show work from the shortlist at the summit.

It used to be a cash award but they found that since it is so hard to be a professional artist in Dhaka, the two artists who won last year just took the cash and decided not to be artists anymore.

Having gone back and forth between Mumbai and Dhaka, how do the cities compare?
Well, because of the political situation, I'm not sure you would call these normal conditions at the moment. There are surface differences. Because Bangladesh is a Muslim country, you can't order wine in a restaurant in Dhaka but you can get the most amazing steak. You can get fantastic Korean barbecue and Japanese food, great Hibachi steak. And because there is a minimum wage in Bangladesh, not many people can afford their own cooks, unlike in India, which means that there is a really vibrant restaurant scene in Dhaka.
Address
Bangladesh Shilpakala Academy
14/3 Segunbagicha
Ramna
Dhaka 1000
Bangladesh
Receive our daily digest of inspiration, escapism and design stories from around the world direct to your inbox