D-17 installation by Sarah Oppenheimer, Texas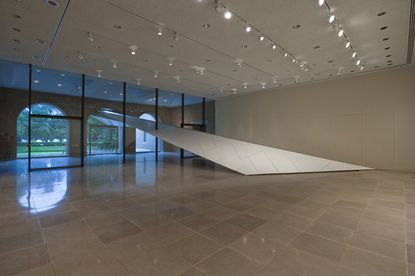 (Image credit: TBC)
Five times a year, Rice Gallery (opens in new tab) invites an artist to create a single installation that transforms its Houston space. From its latest pick, however, it got a little more than it bargained for. Sarah Oppenheimer (opens in new tab)'s soaring shard of aluminum not only takes over the gallery but bursts through two windows to reach the courtyard beyond.
The D-17 spans nearly 60 feet, playing with the light as it passes through the space. Part of the American artist's on-going explorations into how holes and perforated planes affect the way we experience the built environment, it is dissected by a thin channel that directs sunlight in from the outside.
The installation appears to change throughout the day. Approach the gallery in full sunlight and it is virtually invisible, with the building's glass exterior acting as a mirror, reflecting the leafy surrounds. The only clue to what lies inside is the metre or so of structure protruding above the doors.
Enter the building, however, and its aluminum planes loom above you. The interior wall of glass acts as a filter, subtly changing the lighting and colour of the structure throughout the day. Meanwhile its thin channel also draws your eyes outside.
Rice Gallery (opens in new tab) is the only university museum in the US devoted to site-specific installation art. Oppenheimer is one of the more established of its 40 or so artists who have transformed the space, whose works range from a surging sea of cardboard boxes (Phoebe Washburn) to a tapestry of discarded bottle tops (El Anatsui).
The gallery funds the artist's creative process from start to finish, which gives its commissions career-making potential. And, for visitors, it offers an immersive experience. As you walk into the gallery, you enter the art and become part of the installation.
ADDRESS
6100 Main Street
352 Sewall Hall
Houston
Texas 77005
VIEW GOOGLE MAPS (opens in new tab)