Culture Gate to Japan offers a portal to the country's creative talent
The innovative art project sees ten artists reinterpret traditional Japanese culture for the digital age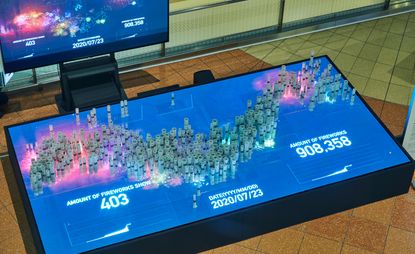 (Image credit: press)
In partnership with Culture Gate to Japan
As international travel remains challenging in many parts of the world, art and cultural exchange must transcend borders in new ways. The Agency for Cultural Affairs, Government of Japan is exploring just that in the second iteration of the innovative art project Culture Gate to Japan.
The presentation will be physically showcased in two exhibitions at Tokyo's Haneda Airport and a further exhibition at the capital's International Cruise Terminal, and also online on the Culture Gate to Japan website. The ten participating artists have all been asked to interpret different aspects of traditional Japanese culture in new and digital formats.
Digital reimaginings of the hanging scroll
As the name suggests, the exhibition 'Neo-Kakejiku' at Haneda Airport is a digital interpretation of the traditional hanging scroll still found within many homes in Japan. Scrolls depicting the changing seasons (cherry blossoms in spring and leaves in the autumn) have been an integral part of Japanese domestic interiors since the Heian period (794-1185). In this digital reimagining, washi paper has been substituted for an oblong monitor showcasing evolving artwork by five digital artists.
The endearing Maneki-neko cat in a work by animation trio AC-bu welcomes visitors to Japan. Set against a rising sun, it sits on a zabuton cushion under a cherry tree – a quintessentially Japanese scene.
UK-based game developer Nyamyam's internationally acclaimed game Tengami takes place inside a magical pop-up book world, and is adapted here to feature on a digital hanging scroll. The scenes from the game mimic the textures of traditional Japanese washi paper and take on a beautiful depth and hand-drawn quality, despite being fully digital.
Creative label Nor uses the traditional painting technique suibokuga as inspiration for its piece, named dyebirth_seeing as. Moving blobs of ink appear as flowers, rocks or clouds before blending together into black organic shapes in a poetic and slow-paced video.
Filmmaker, dancer and choreographer Nao Yoshigai created a video with the motif of Kaitai Shinsho, published in 1774, the first illustrated text of Western anatomy translated in Japan. The work's title, What is in the sea is also in me, references the artist's feeling that life and death meet in the sea.
The last digital scroll is by Natsujikei Miyazaki and is an interpretation of an old Japanese story called The Tale of the Bamboo Cutter. A moon princess is found as a baby within the stalk of bamboo, and as she grows, her beauty attracts five suitors all trying to win her hand in marriage.
Remembering the fireworks that never came
The second exhibition at the airport is by artist and pyrotechnical specialist Sayaka Shimada and comprises an installation poetically titled Fireworks for Another World That Never Came.
Since 1733 – when a huge firework display was staged to remember the almost one million people who had died from famine the previous year – fireworks have been an important part of Japanese culture, and many large-scale and intimate displays are staged each year throughout the country, particularly during the summer.
When displays were cancelled in 2020 due to Covid-19, Shimada collected data on all the shows that didn't take place, and plotted their locations on a large-scale map of Japan. She then launched a series of specially designed fireworks, in reconstructions of the cancelled shows, then filmed aerial footage of the fireworks using a drone, and created an installation featuring the used canisters across a map that allows you to see the fireworks burst into bloom in homage to what could have been.
Video art explores humanity and the sea
At the Tokyo International Cruise Terminal, completed in 2020 to coincide with the Olympics, an exhibition of video art explores the relationship between humanity and the sea.
In sealed aspect by Hiroaki Oishi + Minori Nagashima, digital data from seafloor surveys are used to give an almost ukiyo-e-like representation of the invisible undersea landscape surrounding Japan. It's a beautiful journey of a much-neglected part of the country's geology and invites the viewer to reflect on the vastness of the underwater world.
Saeko Ehara uses the ancient Enoshima Engi myth as inspiration for her video Hope. In the myth, a five-headed dragon falls in love with Benzaiten, the goddess of music and entertainment, but is scolded for inflicting harm on the Enoshima villagers. Ashamed, the dragon vows to end its destruction and transforms into a hill.
Ehara used the story as an example of how Japanese tales of hardship are often turned into stories of hope in later generations. She seems to suggest that the current pandemic might also one day become a story of resilience and survival.
The final video is perhaps also the most experimental. For The Sigh of Eels, Dorita Takido has created a small baby eel robot and documents its journey around Tokyo Bay. Japanese eels used to be eaten to combat fatigue during the country's hot summers, but due to overfishing, are now endangered. The artist urges us to consider how human behaviour and technology could prevent their extinction.
By showcasing new media art – including animation, video games and manga – in airports and other key transportation hubs, Culture Gate to Japan offers local and international travellers an engaging portal to experience Japan's vast reservoir of artistic talent. By taking the presentation into the digital sphere, this innovative creativity can now be enjoyed across the globe.
INFORMATION
Due to the ongoing Covid-19 pandemic, the International Cruise Terminal is currently closed, but all the videos can be watched online at culture-gate.jp