Artist Clare Strand challenges readers to cut and fold this season's sharpest looks
Grab your scissors: conceptual artist Clare Strand's perspective-bending graphics encourage Wallpaper* readers to get creative with this season's key fashion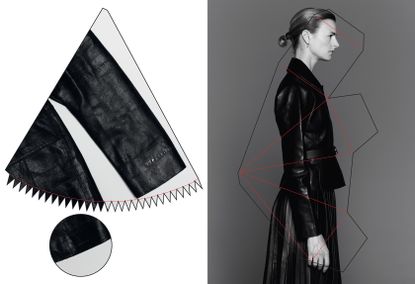 (Image credit: GEORGE HARVEY)
Imagine a vast sheet of paper on which straight Lines, Triangles, Squares, Pentagons, Hexagons, and other figures, instead of remaining fixed in their places, move freely about, on or in the surface,' posits A Square, the narrator of Edwin Abbott Abbott's Flatland: A Romance of Many Dimensions. Published in 1884, the Victorian satirical novella proposed a segregated society of geometric figures, spanning multiple dimensions. It is this perspective-bending approach that Brighton-based artist Clare Strand has brought to the September 2020 issue of Wallpaper*.

Strand devised a special series of graphic interventions based on Abbott's novella for this fashion story – photographed by George Harvey and styled by Wallpaper* fashion director Jason Hughes – and also designed the newsstand cover for this issue. She was drawn to the idea of the viewer (our readers) interacting with and even creating their own artworks. 'The project is an effort to go beyond the traditional fashion page and take it to a new, third dimension,' she says.
Much like the protagonist of Flatland, we're being challenged by Strand to seek a new perspective, creating 3D objects from the 2D templates presented to us. 'I find the geometry nets awkward yet extremely aesthetic, almost like a hieroglyphic writing system,' Strand says. 'The colours of the lines are a key: the black lines are for cutting, the red are for folding.' (The red lines are also a subtle nod to Strand's current show at The Photographers' Gallery in London, where she is exhibiting images inscribed with a red number code, alongside work by her fellow nominees for the 2020 Deutsche Börse Photography Foundation Prize.)

Harvey's black-and-white images provided the ideal foil for Strand's investigation; the artist herself often works in monochrome, stating that 'it helps boil the world down to its essentials'. 'Though I work with photography and have made photographs, I am not a conventional photographer,' she notes, describing herself as 'an ideas-driven artist with photography at the core'.
Clare Strand's graphic compositions, which encourage Wallpaper* readers to create 3D shapes from the 2D templates found within the September 2020 Style Special issue. Strand's geometric art also features on this month's newsstand cover. Image via IPS
This article originally appeared in the September 2020 issue of Wallpaper* (W*257) – on newsstands now and available for free download here
INFORMATION
Clare Strand's current show, which forms part of the Deutsche Börse Photography Foundation Prize 2020, is on view at The Photographers' Gallery until 20 September.
clarestrand.co.uk; thephotographersgallery.org.uk