How Berlin's art galleries navigate reopening post lockdown
After being given the green light earlier in May, Berlin's physical art spaces are tentatively welcoming visitors back. Through three galleries, we explore the different approaches to cautiously negotiating the transition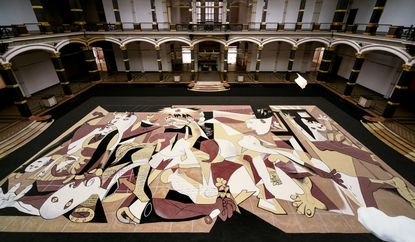 (Image credit: Photography: Laura Fiorio)
During lockdown, museums, galleries and art institutions around the world hurriedly launched digital initiatives to bring their exhibitions to life online. Now, as many of these same spaces begin to reopen in Berlin, they're unveiling new models, integrating digital components with their physical spaces, and focusing on hyper-local initiatives in an effort to balance what they learned during quarantine with the facts that strict regulations remain in place and many other cities, as well as borders, remain closed.

Earlier this month, for example, Wentrup gallery opened the group exhibition 'Zoom In – Zoom Out', but rather than the standard 'opening night', a day-long opening took place from 11am to 6pm, with only three people allowed inside at once. 'We found the procedure worked very well,' Tina and Jan Wentrup explain. The title of the show references the current state of global communication and staying in touch with international communities via applications like Zoom, and the majority of works were produced by the gallery's artists during quarantine specifically for the show.
Shortly after their physical reopening, Wentrup launched an online viewing room (post-quarantine, indeed), as the platform is more than an attempt to virtually recreate a physical exhibition: it features a comprehensive overview of the featured artist's practice with installation views and images of individual as well as a curatorial essay and additional supporting textual materials.

'The online viewing room exists for itself and has no direct link to the current [physical] show but is ultimately linked to the overall programme of the gallery, just like a real showroom in a gallery space,' the Wentrups explain.
Also taking a different approach is the gallery Dittrich & Schlechtriem, with its offline-only exhibition series titled 'Berliner Luft' (Berlin Air). Every Sunday, the gallery digitally announces the artist whose temporary exhibition will be on view for the next seven days alongside a brief introduction to the show. The catch? There are no preview images. 'I wanted to reclaim the gallery as a physical space that one must visit, rather than checking Instagram or the website or, in the last years, just visiting a booth at an art fair,' André Schlechtriem explains. 'The idea is that for one week, the work is exclusive for people who make an effort to visit the space.' He notes, however, that this approach is 'not against an international audience,' as the gallery will happily send images if someone writes an email or calls to enquire.
Meanwhile, one of Berlin's most trafficked museums, Gropius Bau, has swiftly adapted its exhibition 'Lee Mingwei:禮 Li, Gifts and Rituals,' which is largely activated by human interaction, to acquiesce with the demands of social distancing. 'Lee's work is all about conversation, listening, and care, so putting new measures in place felt applicable to the thematics of his work,' Gropius Bau director Stephanie Rosenthal recently said in an interview. During lockdown, intimate video calls were offered as extensions of certain installations in the exhibition. For example, Lee adapted his Sonic Blossom, a performance that entails a one-on-one operatic serenade, to be performed with individual guests via Instagram live.

Now, the opera singer is in the museum space, albeit behind a sheet of Plexiglas on wheels. In an adaptation of The Dining Project, visitors can enter a lottery to participate in a tea ceremony with the artist from home via video conference, instead of the initial plan to host such meetings within the museum. To enter the building itself, visitors must pre-book tickets online with a specified time of entry and, of course, wear a mask.
In the context of Lee's exhibition, Rosenthal noted that disinfection has become an additional ritual, and Plexiglas a symbol of care. This statement reflects an overarching message seen across various initiatives, both on and offline: Objects, spaces, and actions have assumed new meanings through various re-imaginings and recontextualisation. As the Wentrups say, 'Every crisis is a challenge in a sense, but it also offers the chance for something fresh and new.'
INFORMATION
wentrupgallery.com
dittrich-schlechtriem.com
www.gropiusbau.de