Cultural exchange: MoMA goes big in Paris at Fondation Louis Vuitton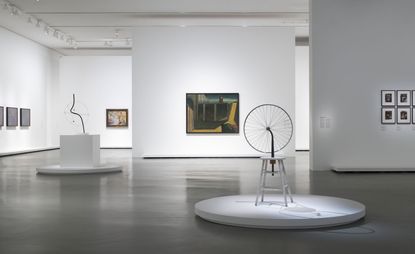 (Image credit: Photography: Martin Argyroglo. Courtesy of Fondation Louis Vuitton)
'Being Modern: MoMA in Paris' is an extraordinary exhibition to the extent that some 200 works have been transplanted from the Museum of Modern Art to the Fondation Louis Vuitton while the New York institution undergoes an expansion by Diller Scofidio + Renfro. Masterpieces including Hope II (1908), by Klimt; The Studio (1928) by Picasso; de Kooning's Women I (1952); Duchamp's Bicycle Wheel (1913); and Rothko's No 10 (1950) arrived to Frank Gehry's permanently anchored ark in dozens of shipments in accordance with restrictions such as how much value could be loaded onto a plane. The MoMA's variation of Constantin Brâncuși's Bird in Space (1923) has landed in Paris for the first time, as has Andy Warhol's painted Campbell's Soup Cans (1962).

But this exhibition is also extraordinary for its presentation, which strongly demonstrates what makes the MoMA so unique. Nearly 90 years old, the museum boasts a world-renowned collection of European works – largely accumulated under the aegis of its founding members, its first director Alfred H Barr Jr, and a steady stream of wealthy donors in addition to a diverse inventory of American art that reflects the zeitgeist over time.
While the visit may seem chronological, it doesn't take long to realise that the coexistence of different disciplines makes for an experience that is far more nuanced and unexpected, which is therefore sure to surprise the typical Parisian museumgoer (and by extension, the throngs of tourists). Even those who could map out the MoMA by heart will find themselves freshly engaged.

MoMA director Glenn D Lowry describes the approach – overseen by MoMA chief curator of photography Quentin Bajac – as 'a chance to scramble what we normally do'. Indeed, visitors entering the exhibition are immediately greeted by Brâncuși's bird and The Bather (c1885) by Cézanne – one of the museum's top treasures – but then discover a series by Walker Evans to one side, and objects from the 1934 'Machine Art' show (a self-aligning ball bearing and a flush valve) to the other.
'That first room is like a microcosm of the museum,' Lowry said, referring also to Hopper's House by the Railroad (1925), one of the earliest additions to the permanent collection. As another example, Steamboat Willie, the iconic animated Walt Disney film featuring Mickey Mouse, plays on an adjacent wall to Magritte's The False Mirror (1929) with its eye consumed by a cloud-filled sky. On the main floor, a cluster of works includes Ellsworth Kelly, a fragment of old curtain wall from the United Nations, Carl Andre's lead tiles, and a maquette of Lever House; altogether, they add up to a remarkably fluid practice of minimalism. Romare Bearden's Patchwork Quilt (1970) and Kerry James Marshall's Untitled (Club Scene) (2013) weave a distinctly African-American experience into the fabric of the show, just as the Rainbow Flag, conceived by Gilbert Baker in 1978, sends a strong message about the MoMA's mandate of inclusiveness – people, yes, but also how it defines art.

Up near the terrace, a wall in one of the corridors boasts a trifecta of contemporary symbols: the @, the familiar red Google Maps pin, and The Power Symbol, which have become so ubiquitous in our daily lives that we rarely pause to consider their efficient, universal design. Arguably the most idiosyncratic juxtaposition consists of Shigetaka Kurita's original emoji characters for NTT DOCOMO devices alongside a complete reconstruction of Lele Saveri's The Newstand – transit system subway tiles, et al – plus Rirkrit Tiravanija's newspaper collage that reads 'The Days of this Society is Number,' which draws from leftist French philosopher Guy Debord. Saveri, who flew from New York to acquaint museum assistants with the zines in his pop-up concession, summed up the context best: 'It's very strange; it's not really explainable... I never expected the MoMA to eventually have it in their collection.'
For every gallery that overstimulates – Joseph Beuys near Yayoi Kusama near Bruce Nauman near Robert Smithson (incidentally, his drawing is called The Museum of the Void) – there are smaller galleries filled with a single work, such as Cindy Sherman's Untitled Film Stills (1970-88), and this is where the show responds directly to the Fondation's architecture. 'Each of those rooms becomes a mini-chapel, and those become the counterpoints,' Lowry pointed out. The Forty Part Motet, an audio installation by Janet Cardiff that produces an ethereal choir from as many individual, boxy black speakers, quite literally assumes this role; to some visitors, it might prove more transcendent than any of the highly-anticipated paintings.

But since many of those paintings have ties to Paris, and ended up in New York because so many patrons were following the waves of modern art emerging out of both cities, the exhibition feels, at various points, like a mirror being held up from the other side of the Atlantic. Or as Lowry noted, 'We thought there was a symmetry to that gesture – the idea of a museum grows out of so many ideas here, and in Paris in particular during the 1920s. Ninety years later, one could flip it over and say, "Look what you've created, look what you've helped bring into being."'
INFORMATION
'Being Modern: MoMA in Paris' is on view until 5 March 2018. For more information, visit the Fondation Louis Vuitton website
ADDRESS
Fondation Louis Vuitton
8 Avenue Mahatma Ghandi
75116 Paris