Dominique Gonzalez-Foerster imagines extraterrestrial life in VR and beyond
'Alienarium 5' sees artist Dominique Gonzalez-Foerster introduce otherworldly concepts at London's Serpentine South, offering an immersive extraterrestrial experience with a canine twist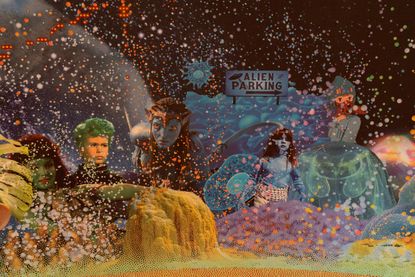 (Image credit: Hugo Glendinning)
The work of French artist Dominique Gonzalez-Foerster is Influenced to the core by science fiction – which she also refers to as speculative fiction. Her works demonstrate ideas about art, reality and the potential that draws the two together.
At the recent opening of her Serpentine South exhibition 'Alienarium 5' (until 4 September 2022) the artist began her speech by thanking 'so many human and non-human beings' for helping her create the show, which gives an idea of her plane of thought. She relates art closely to interplanetary spaces and sees the concept of alien life forms as a potential arena for creativity. As she explains, 'it's not a question of whether aliens exist, it's more that I connect very deeply with the question of experimental art. To dream of these possible beings and always have different perceptions is also to dream about experimental artwork'.
'Alienarium 5' respects the receptive abilities of every being, so much so that – inspired by the stream of canines passing through Hyde Park – the Serpentine is considering opening the exhibition exclusively to dogs on its final day (pending some logistical factors), says curator-at-large Claude Adjil.
Above all, the show utilises the human imagination to perceive abstract concepts. It holds the viewer in a metaphysical space, only just meeting the edge of definable meaning. In her all-encompassing approach, Gonzalez-Foerster reaches out to our senses and welcomes us to re-experience unquantifiable sensations from our childhoods. The scents created by her 'alien flowers' sprinkle a hard-to-place nostalgia into the museum. Further artworks, a hologram titled Holorama 5 and a peep show, La Planète Close (Vision), invite us to imagine the physicality of alien life.
Gonzalez-Foerster believes that collage can form a 'visual hypertext' and enable a shared understanding. Her Metapanorama, which transforms the central space at Serpentine into a planetarium, is a visually represented train of thought, with references to popular culture, fictional characters, architecture, animals and historical figures. The heavily researched interrelationships are webbed across the room, with each figure winking to another in a mosaic that could take any highly committed general knowledge enthusiast hours to piece together.
The 'Alienarium 5' virtual reality experience adds a second intangible chapter to Dominique's VR portfolio, which began with Endodrome, 2019. This time around, her VR has an interactive element, which adds an astonishing level of connection to the work. Collaborating with Vive Arts and Lucid Realities, Gonzalez-Foerster has fabricated an experience that Adjil describes as 'a massage for your brain'.
To experience Gonzalez-Foerster's ethereal VR conception of a world aligned with alien life, the viewer is invited to sit on one of five perches, each releasing them into a different perspective of the same virtual reality. The opportunity to float through darkness, glimpse stars and interact with otherworldly beings is as unique as it is charming. In conceptualising this interactive work, Gonzalez-Foerster sparks a conversation about common spaces of experience outside of the realms of daily life.
As Serpentine artistic director Hans Ulrich Obrist explains, Gonzalez-Foerster believes 'in order for visitors to spend time in an exhibition, we need to address our sensitivity to sight, to smell, to feel, to touch'. The 'deeply collaborative' configuration of 'Alienarium 5' achieves this admirably.
Through a series of collaborations – with philosopher Paul B Preciado, musician Julien Perez, and perfumier Barnabé Fillion – the artist further highlights the ways in which creative alliances can crack open the capabilities of art and create an immersive space.
This new London art exhibition links us back to our childhoods and ignites our senses to imagine the artist's 'Anti-War of the Worlds vision', reminding us that 'a common future, not isolation, is achievable through love and togetherness'.

Information
'Alienarium 5', until 4 September 2022, Serpentine South Gallery, Kensington Gardens, London W2, serpentinegalleries.org; dgf5.com


Receive our daily digest of inspiration, escapism and design stories from around the world direct to your inbox
Martha Elliott is the Junior Digital News Editor at Wallpaper*. After graduating from university she worked in arts-based behavioural therapy, then embarked on a career in journalism, joining Wallpaper* at the start of 2022. She reports on art, design and architecture, as well as covering regular news stories across all channels.