Ai Weiwei's #SafePassage surveys global refugee crises at Foam Amsterdam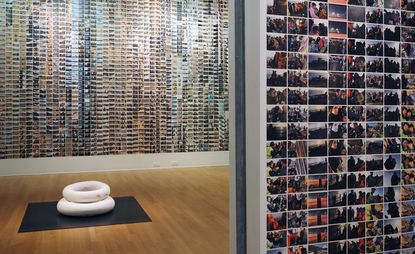 (Image credit: Anne Van Der Weijden)
Activist-artist Ai Weiwei is known as much for his differences of opinion with the Chinese government as for his art, and says that having left his homeland he feels empathy with the mass of refugees attempting to find a new life in the EU. 'There are different kinds of refugee. You can be refugee by fear, by operations; it's a complicated issue. If you have to unwillingly give up your home, to leave what belongs to you, your family and friends, you are a refugee,' he says. Ai's latest exhibition, '#SafePassage' at Foam (Fotografiemuseum Amsterdam), which runs until 7 December, depicts both the personal experiences that led him to leave China and those of hundreds of thousands of the world's refugees and migrants.

When the institution asked the artist to be a guest editor of its magazine last year, he used the invitation to focus solely on the subject 'Freedom of Expression under Surveillance', by documenting his own daunting experiences ­– and his attempt to maintain some kind of control – to illustrate the theme.

His first encounter with Europe's refugees occurred last winter on the Greek island of Lesbos. 'When I saw them come to shore on a boat, it really made me suffer knowing that I could never help,' recalls Ai. He has since returned, visiting refugee camps from as far as Syria, Israel and Turkey to those in Italy and France.

The first room in the exhibition is covered by a wallpaper entitled Finger, a composite of a repetitive drawing of an arm with a raised middle finger and part of the face and ear; upon it is a grid of photographs, documenting his life when under 24/7 surveillance in China.

A prolific photographer, he has dedicated the second and the third room to the images he created of the refugee crisis in Europe. Walls are covered with a stream of images taken with his iPhone, and shared on Instagram with his ever-growing audience. 'To take those photos, to post them and to share them, is a sign of life; it's like someone who rides a bicycle, someone who exercises. For me, it is how I see [and] understand the world,' says Ai.
INFORMATION
'#SafePassage' is on view until 7 December. For more information, visit the Foam website
ADDRESS
Foam
Keizersgracht 609
1017 DS Amsterdam
Yoko Choy is the China editor at Wallpaper* magazine, where she has contributed for over a decade. Her work has also been featured in numerous Chinese and international publications. As a creative and communications consultant, Yoko has worked with renowned institutions such as Art Basel and Beijing Design Week, as well as brands such as Hermès and Assouline. With dual bases in Hong Kong and Amsterdam, Yoko is an active participant in design awards judging panels and conferences, where she shares her mission of promoting cross-cultural exchange and translating insights from both the Eastern and Western worlds into a common creative language. Yoko is currently working on several exciting projects, including a sustainable lifestyle concept and a book on Chinese contemporary design.