Head in the clouds: Zdeněk Fránek creates an austere mountain tower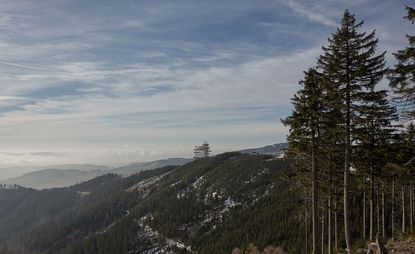 (Image credit: BoysPlayNice)
The construction of various viewing structures in the romantic setting of the Czech mountains has been a tradition since the 19th century, when tourism first began to flourish there. A contemporary version of this traditional watch tower – Tower Dolní Morava or Skywalk – is the latest project of the Brno-based studio Zdeněk Fránek Architects. The studio completed an impressive skywalk route located close to the popular ski resort of Dolní Morava, in the Orlické Mountains, at the end of the last year.

Together with the construction company Taros Nova, Zdeněk Fránek designed a technical yet organic structure that forms an artificial mountain landscape. At an altitude of 1,116m, the architect designed an impressively irregular, ellipse-shaped wooden path twisted around the three main tower-like constructions, with a triangular cross section embedded in concrete foundations. The structure is composed of rectangular wooden beams mounted on steel trusses. 'It is rare to use timber on a construction of this magnitude,' explains Zdeněk Fránek.

On the way to the top viewing platform – at a height of 45m above ground – visitors climb a looping walkway which offers a constantly changing view of the surrounding landscape. Besides the scenic trail, the Tower affords a number of unexpected attractions, including several resting places, nets and wooden nests.

For those who'd prefer not to double back on themselves, there is a stainless steel 101m-long slide – itself recalling other recent architectural and artistic projects of the recent years, such as Carsten Höller's tower at the Vitra Design Museum or the divisive ArcelorMittal Orbit tower by Anish Kapoor for London's Olympic Park. 'The Skywalk is a conceptual building, and it offers visitors an intense sensation of walking in the clouds and an experience of a space above the landscape,' concludes Fránek.
INFORMATION
For more information, visit Zdeněk Fránek Architects' website (opens in new tab)

Photography: BoysPlayNice