Ahead of the curve: UNStudio launch The Netherlands' new Arnhem Station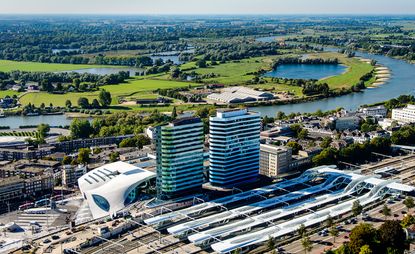 (Image credit: Siebe Swart)
Balloons were strewn across the train station of the Dutch city Arnhem this week, as its new £27.6m transfer terminal got its official opening. There was much to celebrate as the station is part of a 20-year project to regenerate the area and turn it into a transit hub - the city's biggest post-war development.

Amsterdam architects UNStudio masterplanned the project and designed the train station, two new bus stations and pair of colourful office towers. Still to come is some affordable housing, though an architect for that is yet to be announced.

Arnhem was the most bombed city in the country during WWII, after which, a new station was hastily erected. UNStudio co-founder Ben van Berkel says it was 'small and dark and not the best architecture'.

His firm's new terminal is in stark contrast with what went before. The design is dominated by The Twist, a vast curving and twisting structure which doubles as a roof, balcony and supporting column, creating 'an open and transparent space with good sightlines,' explains van Berkel. That this amazing, geometrically-devised structure has slight echoes of Santiago Calatrava and Zaha Hadid is no coincidence. Van Berkels worked for the Spaniard for a stint in 1986, and studied under the Londoner in 1988 at the Architecture Association.

The Twist is an engineering as well as an architectural feat. It was made of prefabricated coated steel panels by shipbuilders in the northern city of Groningen, who carved skylights out of the roof element.

Unusually for a station, there is little way-finding signage. Van Berkel explains that 'studies show how daylight can direct you,' and even the terminal's sloping floor inspires 'natural way-finding through architecture.'

Near the steel column hangs a light sculpture by the Dutch artist John Kormerling, which acts as a meeting point for travellers. The many bulbs flash continuously, making it hard to miss.
INFORMATION
For more information on UNStudio visit the website (opens in new tab).