Tallinn Architecture Biennale 2022 explores architecture's learnings from food
'Edible; Or, The Architecture of Metabolism' opens at the Tallinn Architecture Biennale 2022, exploring the relationship between food and architecture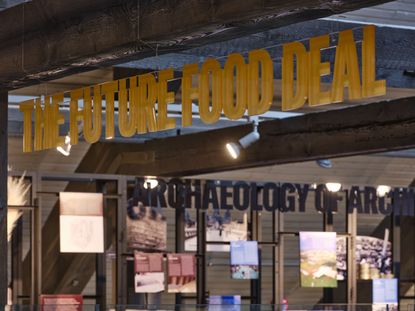 (Image credit: Tõnu Tunnel)
'May TAB be inspiring,' says Estonian president Alar Karis; 'and a little irritating too,' he adds as he addresses a large crowd gathered at the launch of the sixth rendition of the festival – Tallinn Architecture Biennale 2022. He is no doubt alluding to the provocative nature of such events, although the ambition becomes clearer as he concludes: 'May TAB spawn a new way of thinking.' The event's title this year is 'Edible: Or, the Architecture of Metabolism', and TAB has a packed programme of exhibitions and symposia that, according to organisers, 'will transfer the metabolism and experiential aptitudes of the natural world – like growth, decay, digestion, and nutrient release – to the domain of cities and buildings'.
Inside TAB's main venue, the Estonian Museum of Architecture (housed in a former salt store) co-curators Lydia Kallipoliti and Areti Markopoulou have deep-dived into all things food and architecture related. Markopoulou says the exhibition examines 'from the fragility of the production process', and so a very literal examination, 'to the metaphorical implications of looking at architecture itself as food'.
She is standing next to a curved wall of circular bricks that resemble stacked cheeses. 'These are already in production,' says the curator, who is also academic director at IAAC in Barcelona, as she points at the strangely soft yet solid forms made from cultivated mycelium, the root system of fungi; 'so this is not speculative design', she is keen to emphasise.
Although not all speculative, there are elements of TAB that are certainly experimental, and most definitely conceptual. The Metabolic Home section of the exhibition is composed of seven installations, each representing a room, and a food-related process.
On the opening night, an intrigued crowd observes as impish performers pick leaves from a vertical robotic garden before carrying them to the 'kitchen' installation. Here, Andrés Jaque (Office for Political Innovation) has created a very sculptural contribution from discarded (and undeniably beautiful) off-cuts from the marble quarrying industry. The performative food preparation and consumption continues on through other spaces of this imaginary home to the 'dining room' for ingesting, the 'lounge' for digesting, and so on. Curiously, the 'Friendship WC' (water chandelier) by Cornell University's Ecological Action Lab, a stunning chandelier-cum-cistern composed of hundreds of spouting glass bottles, is coyly ascribed only for 'hydrating'.
If the Metabolic Home is a space for a very practical 'curated experiment' in the words of TAB, the Edible two-day symposium is the festival's platform for intense debate on the intersections of architecture, food systems and regenerative design. In a dense, engaging programme with no shortage of audience participation, keynote speakers and panel discussions thrash out topics such as 'Architecture That Makes Food' and 'Farm and the City' under the looming post-industrial presence of two giant boilers in the former power plant that is the Tallinn Creative Hub.
'Rather than architecture as a machine for living,' says Claudia Pasquero, director of ecoLogicStudio, from the podium, 'we think of architecture as a living machine.' TAB is the perfect place to showcase Pasquero's research and practice, much of which centres on the use of biotechnology for the built environment.
At TAB, the meeting of architectural theory and practice with scientific research is palpable, with exhibits and presentations that are based on reams of data as much as visual considerations of design and function. And co-curator Lydia Kallipoliti (an assistant professor at the Irwin S Chanin School of Architecture at the Cooper Union in New York) is keen to emphasise the experimental remit that TAB has given her: 'A lot of installations started to leak,' she says of what is noticeably a tank-filled biennale this year, 'and then some plant species were dying in the museum', describing the laboratory-like set up.
But for Kallipoliti this trial and error, research-based approach was integral to the process: 'It's incredible to think of the boundary of the exhibition as something that is a prototype for the world.'
Stepping outside of the metaphorical food lab / scientific kitchen that TAB has attempted to foster this year, fellow curator Markopoulou emphasises the marked urgency of the issue at hand. 'Food is crucial', and is not getting enough attention according to the architect and researcher, and although 'much is being done on issues of climate change, health crises, economic and social crises', she says it is astonishing that food, the very sustenance of life, is often an afterthought when it comes to architecture and design.
'We need to be open to possibilities for designing in a much more dynamic way, including more species, more living organisms,' ends Markopoulou convincingly. 'How can we increase the quality of life, for all species?'
Despite an undoubted nod to radical and speculative projects of the past (and Kallipoliti's 'The Archaeology of Architecture and Food Systems' exhibition contextualises this well), TAB 2022 is very much grounded in the present. Outside the museum stands 'Fungible Non-Fungible', the biennale's pavilion, a live NFT project that seeks to bring communities and craftspeople together with an ever-evolving public sculpture.
Perhaps somewhat straying from the Edible theme, this installation is, however, metabolic and hyper contemporary in equal measure. With its research focus and data-driven approach, TAB might be quite a lot to digest this year; but it will certainly provide more than enough food for thought to all visitors to Tallinn until the end of November.
INFORMATION
Tallinn Architecture Biennale 2022 is open 7 September to 31 October 2022
2022.tab.ee (opens in new tab)