Great wall: AGi architects' Kuwaiti house offers more than meets the eye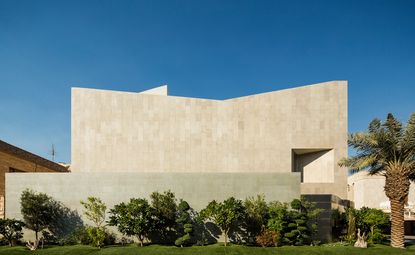 (Image credit: Nelson Garrido)
Spanish-Kuwaiti firm AGi architects, run by Joaquín Pérez-Goicoechea and Nasser B. Abulhasan, has unveiled its latest residential offering, the Wall House; this bright and spacious family home is a highly private abode, situated in the suburbs of Kuwait City.

The structure is fully wrapped in a solid Pietra Serena and Val d'isere stone skin and, at a first glance, appears to only have minimal contact with the outside world. This project was conceived as an enclosed and very private space, yet once inside, the design tells a very different story.

'Wall House is the physical expression of a family's life', explain the architects, adding that it acts as a 'large shell protecting everyone that inhabits it.' Only when entering the complex, does the project's striking interior/exterior relationship fully unfolds, taking form in a series of internal courtyards and a generous and relaxing roof terrace.

The home, which houses the clients and their three daughters, was designed with the residents' wellbeing in mind. AGi devised the internal program to be as open and free-flowing as possible to enable bonding and socializing between family members. Each one is provided with their own sleeping quarters, all of which have direct access to one of the property's many outdoor areas.

The cantilevered gardens and terraces are protected from the region's stong sun by the shade of the building's own volume. The green element stretches across the floorplan, providing vegetation on all levels. Large floor to ceiling PanoramAH sliding windows by Portuguese manufacturer Jofebar ensure a seamless visual connection between inside and out.

AGi reference 'quality, creativity and exclusive design' as some of the firm's key architecture principles, and the Wall House is indeed a case in point, combining privacy with fun, and meticulous contemporary design with the area's climatic requirements.
INFORMATION
For more information on the Wall House, visit AGI Architect's website