The new Nubuke Foundation gallery interacts with Accra's climate
Architects Baerbel Mueller and Juergen Strohmayer craft a new raw concrete home for the Nubuke Foundation in Accra, Ghana, a gallery in sync with the local climate and entirely dedicated to African art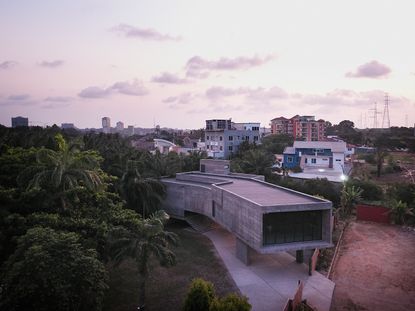 (Image credit: Julien Lanoo)
A new exhibition centre for the Nubuke Foundation in Accra, Ghana is now open to the public. Architects Baerbel Mueller and Juergen Strohmayer's design not only preserves a set of existing 1980s structures on site – which now serve as a shop, archive, and artists studio – but it also allowed a new-build extension with a single purpose; this elegant building, entitled Nubuke Extended, is entirely dedicated to displaying African art.

Gracefully inserted on the edge of the Nubuke site's premises, the new structure is designed as a harmonious fit to the foundation's complex. Featuring a split-level construction, lifted up on concrete pillars, the volume hovers over the site, creating a sheltered, open area, framing the garden and its Indian almond tree.

Concrete is omnipresent, forming exterior as well as interior walls. From afar, the building appears enclosed, but once inside, it unfolds to reveal generous exhibition areas and a stairway leading to a green roof. The interior is choreographed by rough-textured surfaces, occasionally broken to create a flow of different rooms and an elegant composition of spaces. And while the design appears monolithic, its design provides flexibility for a variety of functions, according to the cultural foundation's needs. Discreet, metal curtain tracks, carefully inserted into the concrete ceiling can transform the space when needed.

'The design of Nubuke Extended responds to this programmatic layering through an abundance of indoor and outdoor spaces that allow for the hosting of many different scenarios, both intimate and expansive,' explain the architects. 'The new gallery building is equipped with architectural elements that augment and soften its raw and stark appearance and volume, such as textile curtains on a railing system. These allow for the creation of, and engagement with, flexible and temporary appropriations, subdivisions and niches.'
Accra's climate and geography were key to the overall design. The northern and southern sides of the building are defined by large openings, orientated so as to be aligned with the prevailing wind direction, as well as revealing views towards Accra and the palm grove to the rear of the estate.

'I like to think of the building as a six-sided box for which each side has been treated with a climatic strategy. The lower surface of the box is raised with a green roof on top,' says Strohmayer. 'The eastern and western walls are the more closed walls, which help keep out the strong sun in this tropical part of the world, and then the ends of the tube are chopped open to create these very large apertures. It is an unusual object, but it can only exist here on the Nubuke grounds.'

Since its opening in 2006, the foundation has been crucial in celebrating Ghana's art scene, and has become one of Accra's most highly esteemed cultural venues. This new extension will enable Nubuke to evolve with the city's growing thirst for arts and culture. 'The evolution of art spaces and cultural initiatives on the African continent, in relation to their effects on the (urban) context they are located in, is most thrilling,' explains Mueller.

'New forms of making and showing art, of connecting art and society, and of engaging audiences, are emerging,' continues the architect. 'These projects and spaces are becoming engines for transformation. In a wonderful way, this is currently happening all over Ghana. Founded already a decade ago, Nubuke was one of the very first initiatives of this kind.'

The Nubuke Foundation revealed its new extension with a retrospective exhibition of Ghanaian photographer James Barnor.
INFORMATION
juergenstrohmayer.net (opens in new tab); nav-s.net (opens in new tab)