Now Boarding: Fentress Airports and the Architecture of Flight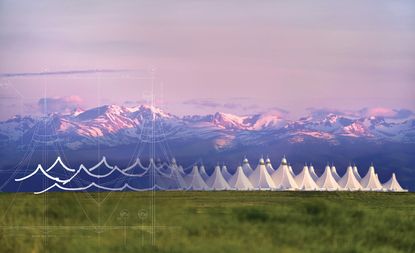 (Image credit: Ellen Jaskol)
When Curtis Fentress (opens in new tab) designed his first airport more than 20 years ago, for the Rocky Mountain capital of Denver, the architect made a radical departure from the big-box people-processors of the 1970s and 1980s and helped push air travel back into the realm of excitement and glamour.

Such is the premise of 'Now Boarding: Fentress Airports and the Architecture of Flight', opening this week at the Denver Art Museum (opens in new tab). The retrospective throws a spotlight on Fentress Architects's cache of drawings, photographs, models and films to illustrate the creative process at work behind the contemporary airport revolution.

The iconic Denver hub, completed in 1995, is the obvious star. Its fabric canopy, saturated with light, mimics the snowy-white peaks of the Rockies or a settlement of teepees, depending on your vantage point. (Using the Spandex, acrylic and Gatorfoam fabric instead of steel also saved the airport a bundle in roofing costs).

That design prompted South Korea to come knocking. Fentress's response for Seoul's Incheon International Airport (opens in new tab)was to eschew the right angle, leaning the walls outward like sails in the wind and adding sweeping roofline arced like an ancient Korean temple. The airport, which launched in 2001, brings in enough natural light to cultivate a succession of indoor gardens. It is, for the prospective visitor, the first lesson in Korean culture.

Somewhere between tackling airports for Seattle, San Jose, and Raleigh-Durham, Fentress - a protégé of IM Pei (opens in new tab) - became a go-to for striking and highly functional airport design. Those buildings are less transport hubs than futuristic gateways to rapidly expanding centres, the first stop on millions of sightseeing agendas and a hint of what's on the other end of the transfer into town.

Prefacing a gallery showcasing ideas for the 'Airport of the Future' is Fentress's current undertaking, a modernisation scheme for LAX incorporating a California-blue wavy roofline and spaghetti junctions of trams and walkways. Due to open to the public in early 2013, it will likely be Fentress's most photogenic outing, providing, as it does, the backdrop to many a Hollywood fable. Watch a visual play-by-play of the design and construction at the Denver exhibition. Or look out for it soon at a theatre near you.


ADDRESS
Denver Art Museum
100 W 14th Ave Pkwy
Denver, CO 80204