Co-working it: an art deco work space opens up in London's Fitzrovia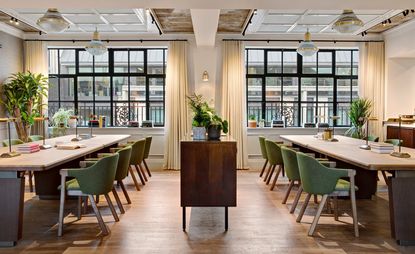 (Image credit: Ed Reeve)
London is blessed with yet another sumptuous workplace, this one the debut offering of Maslow's. In a six-storey Art Deco corner building in Fitzrovia, the fledgling brand has combined hotel-style hospitality with a clubby, domestic aesthetic and office facilities.

Its founder, Guy Ivesha, eschews the terms coworking and flexible working. Instead, he says: 'We are all about harmony between working life, social life and life in general.'

Interiors for Maslow's Mortimer House are by New York design firm AvroKO, which worked on NYC's 1 Hotel Central Park. The designers' task was to translate 20th -century psychologist Abraham Maslow's famous hierarchy of needs into an environmental experience. 'I'm fascinated by the philosophy of human motivation,' explains Ivesha.
On the ground floor, the base level of Maslow's Hierarchy - the 'physiological needs' of the individual – manifests itself as Mortimer House Kitchen, a chic restaurant which is open to members and the public.

Next up, the 'social belonging' level of the Hierarchy is represented by the four members' coworking floors. The pièce de résistance on these levels is the round-edged oak tables designed by AvroKO and manufactured by Spanish furniture company BD Barcelona. Other nice touches include the fifth floor's corner snug decked out with dark green leather upholstery.

As well as adding some flair and warmth to the spaces, the designers set about 'stripping things back and exposing (original features) and being happy and proud of the existing terracotta ceilings and mouldings', says Adam Farmerie, principal of AvroKO.

Ivesha, who is backed by investment from financiers Cain International, is already eying up a second site in London's West End, which is also likely to be an AvroKO project. Mortimer House borrows so much from the hospitality sector that it's a surprise to find it doesn't have bedrooms. 'We didn't do (rooms) here because the layout and floorplates weren't kind enough,' says Ivesha, but he is hoping to acquire a nearby building to house Maslow's accommodation.
INFORMATION
For more information, visit the Mortimer House website and the AvroKO website