Mole Architects' Cambridge cohousing pioneers community
Cambridge's first cohousing development, Marmalade Lane, pioneers communal values through inclusive design, sustainable living and neighbourly appreciation – and it's all been made possible by an enlightened line-up: Mole Architects, TOWN developers, and Cambridge City Council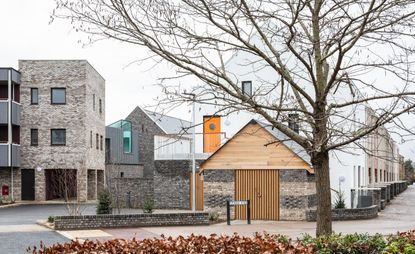 (Image credit: David Butler)
A new community in Cambridge is celebrating the completion of its made to measure residential development. The first cohousing project for the city has been designed by Mole Architects, a practice with passion for sustainability, common sense, inclusiveness and now, after this experience, cohousing too.

New build developments don't often bring much liveliness along with them, yet this one brings plenty. It's a little village in itself, carving space for communal life as well as living through its design. Surrounding the 42 homes – that range from a five bedroom terraced brick house with a pitched roof, to a one bed apartment in a friendly low-rise block of 10, there's a large garden with vegetable patches; a friendly central car-free lane with bike storage and roaming children safely on the loose; and the new micro-neighborhood also has its own little town hall – practical for modern life, and a good old fashioned get-together.

The community has, after all, been in the making since the early 2000s, and most of the neighbours already have 18 years of friendship under their belts. Meet the K1 Cohousing Group. They span all generations, have diverse interests, and personalities – yet they all share a belief in the benefits of sustainable, holistic and happy living.
Cohousing is a forward-thinking concept based on shared resources and values. Bringing power to the residents, cohousing groups take control of the places they live, and how they live there, through democratic ownership of the land freehold. While the ideals of cohousing are all fairly well-established, there are currently only 20 built cohousing projects in the UK (however, there are over 60 co-housing groups in operation, mostly poised for the right piece of land and opportunity).

After the land, a plot known as 'the K1 lot' in north Cambridge, was negotiated, a team was appointed by competition to make it all happen. Cambridge City Council commissioned Trivselhus, a Swedish building company with expertise in sustainable wood, innovative developer TOWN, led by Jonny Anstead and Neil Murphy, a pair passionate about strengthening streets and neighbourhoods; with Mole Architects on the design – the Cambridge-based practice that also recently collaborated on Peter Zumthor's secular retreat in Devon and a commendable new housing project in Eddington, north Cambridge. Then, the fun began.
Yet it wasn't a normal commission for Mole Architects. As well as meeting the needs of the developer, Meredith Bowles, lead architect, director and founder of Mole Architects, was also working with a whole neighbourhood – the many members of the K1 Cohousing Group, who all had their own requirements and requests.

'The project is all the better for it,' says Bowles, of his multitude of client relationships and dynamics. 'We have really enjoyed getting to know the community through the process of design and the build and that's all the more gratifying when you see everyone move in. The social and community ethos behind cohousing chimes with our belief in making buildings which support social interaction.'
One part of the design makes this development totally unique, and it was only made possible by the ideals of joint management and community investment – the friendly common house. Inside there's a social space to be proud of; the double-height hall, with exposed cross-laminated timber walls, latticed brick work interior architecture – all topped off with a lick of energizing blue paint and a skylight. As well as beautiful, it's also totally practical. Opening out into the garden, it has an upstairs lounge that overlooks it and an adjoining kitchen for overspill on sunny days, keeping an eye on kids, preparing a feast, or simply cleaning up at the end of the day.

That's not all. The modest common house also hosts three guest rooms for residents to reserve, meeting rooms, laundry room and a children's play room. As an astute work of architecture, an investment, and a simply just a piece of space, it draws attention to what is greatly missing in so many residential developments across Britain – and what effect elements such as a community building, or a vegetable patch, might have on our future.
One resident named Hannah is happy that her children will be growing up at Marmalade Lane: 'I think growing up in a community where tolerance, respect and compromise are practised through consensus decision-making will be a fantastic education in how to be an active member of society,' she says.

As well as the community goals, Mole made sure to bring plenty of individuality to the neighbourhood through the design. Early residents who purchased their homes off plan could select from one of five 'shells' that varied in floor plan configuration, kitchen and bathroom fittings, type of brick – from a restrained and uplifting palette of shades from white, to oatmeal, dappled red and cool grey, and the colour of their front door – orange, yellow, burgundy or mint green. These elements contribute to the lively character of Marmalade Lane: 'The sense of community on moving in was instant,' says Frances, an early K1 Cohousing Group member who selected her own specs.
There's a rhythmic harmony across the whole development, where colour, people, personalities and the odd pet, are all brought together with consistent architectural detailing; neat window frames and proportions, slim steel balcony balusters or the choppy string of pitched terraced roofs. Personal space is in balance with communal areas, with subtle 'front garden' boundaries, reinforced through respectful neighbours with a shared passion for gardening.

Lessons learnt during the process apply to designing a successful residential development – and a community: 'The principal challenge in this scenario is communication and we have definitely learnt on this project the importance of a clear decision making process,' says Shubhanaga Simpson, project architect.

'We have been very fortunate: Marmalade Lane is council enabled, led by a vanguard council and an enlightened developer,' says Simpson of the collaboration. This team was central to the lengthy process that does involve intimidating hurdles for cohousing groups. Yet Simpson is hoping things will get progressively easier for them: 'One of the obstacles for many groups is identifying funding streams but there is now a government grant – the Community Housing Fund – available for cohousing groups,' he says.

Mole Architects is now well equipped to help too: 'The planning process can present obstacles and we know that architects are well-placed to act as stewards to help cohousing groups navigate this process.' The team is currently in conversation with several other cohousing groups about future developments – and Simpson was so inspired, he founded his own cohousing group in Cambridge.
Harriet Thorpe is a writer, journalist and editor covering architecture, design and culture, with particular interest in sustainability, 20th-century architecture and community. After studying History of Art at the School of Oriental and African Studies (SOAS) and Journalism at City University in London, she developed her interest in architecture working at Wallpaper* magazine and today contributes to Wallpaper*, The World of Interiors and Icon magazine, amongst other titles. She is author of The Sustainable City (2022, Hoxton Mini Press), a book about sustainable architecture in London, and the Modern Cambridge Map (2023, Blue Crow Media), a map of 20th-century architecture in Cambridge, the city where she grew up.