'Labels 2' building by HHF Architects, Berlin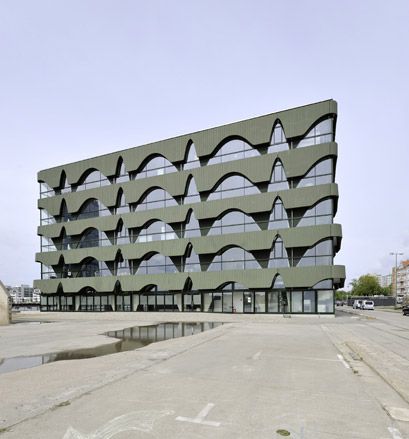 (Image credit: TBC)
It's not only big brands and the hotel industry that have caught on to Berlin's alluring 'creative capital' tag - property developers are finding ingenious ways to profit from the image as well. Take the new 'Labels 2' building on the banks of the river Spree. Exploiting the magic combination of labels, looks and location, this 'high fashion exhibition centre' has been built to provide a permanent presentation platform for up to 30 different fashion labels under one roof, together with an event space, lounge and restaurant.
Residents, predominantly from the streetwear segment, include Puma, Mavi and S.Oliver. Located in the Osthafen area, just upriver from the MTV and Universal European HQ buildings and the massive O2 World arena, this distinctive, cube-shaped new landmark, with its eye-catching façade, has been designed by Basel-based HHF Architects. The sinuous sine curves of its green, glazed concrete prefab shell are intended to echo the neighbouring river, as well as the internal structural supports and a central steel-sided staircase.
So far so sexy, but this is one fashion victim that is not just concerned with superficial appearances. The entire load-bearing structure of exposed concrete has its own vascular system - a network of pipes embedded within the concrete itself, which act as thermo-active building system (TABS). Connected to a heat exchanger, they conduct water from the neighbouring river and use it to help cool and warm the building as required.
Thus, say the architects, the energy consumption of the building is reduced by 40%, which, from a fashion perspective, is almost as effective as rice crackers and a bottle of Evian.
ADDRESS
Labels 2
Stralauer Allee 10
10245 Berlin, Germany