Gathering space: a new cultural centre opens in the South Korean city of Gwangju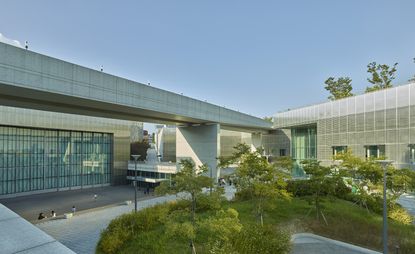 (Image credit: Tim Hursley)
The Forest of Light (also known as the Asia Culture Centre) is the latest addition to the flourishing South Korean city of Gwangju by award winning US architecture firm Kyu Sung Woo.

The spectacular civic space – situated in the heart of Gwangju's historic centre – aims to play a crucial role in supporting and nurturing culture in the growing city, forging its new identity through a series of new programmes. It also stands as a memorial to the events and victims of the Gwangju Uprising of 1980, which took place on the same site.

Being a central project in Gwangju's ongoing initiative for development and regeneration, the Forest of Light will act as a catalyst to South Korea's national economic plan to develop seven new cultural districts across the country.

The architects have employed concepts of light and transparency to weave their design into the surrounding urban fabric. Both these elements relate strongly to the meaning of the word Gwangju, which literally translates to 'City of Light'.

The chosen material palette, form composition and mechanical systems were all tailored to fit the local climate. The building's green roof and its geothermal and solar energy systems make it a shining example of eco-efficient design.

The steel and glass complex totals 143,000 sq m and is composed of five central facilities; the Cultural Exchange space, archive and research, children's areas, a 'creation' room and a theatre. These are laced together with a forested park, family play areas and a series of generous civic spaces. The green areas provide some much-needed 'breathing space' for Gwangju's densely built city centre.
INFORMATION
For more information, visit the Kyu Sung Woo website

Photography: Tim Hursley