Urban house: Two architects make the most of this Auckland home's industrial feel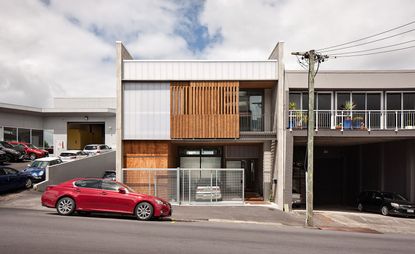 (Image credit: Simon Devitt)
After several tried-and-failed attempts to buy a city fringe warehouse to convert into their dream space, Auckland architects Andrea Bell and Andrew Kissell concluded they would have to construct their own. And so, their new design is now nestled on a previously vacant site behind the car dealerships of Grey Lynn, featuring an elegantly layered street frontage that conceals a generous family home within.

And yet this is no typical home. The 'warehouse' shell has exposed structure and services, concrete floors and high-bay lights. There are few linings and no marble kitchen. Instead, it is slightly brutal and almost monumental in scale, designed by architects brave enough to experiment with what makes a dwelling.
'The challenge was to create an honest warehouse character and not to overwork it,' says Kissell. 'Get the basics right – the space, the light, the outlook – and because we knew we couldn't fully control this type of construction, we left some things to chance.' They have embraced the misalignments, builder's markings, the accidental gouges in the precast, and enjoy 'that things will wear and age, develop a patina and continue the story.'

Located in a mixed-use neighbourhood, the design would allow for different potential uses in the future – residential, commercial, retail, hospitality or a blend. The staircase is adjacent to the entry lobby, for example, the main structure is fire-rated, and there are no central columns to constrain planning.

For its current residential use, the architects have located three bedrooms, two bathrooms, a TV room and study on the top floor; the kitchen, dining, living, laundry, guest toilet and store on the street / middle floor; and a basement workshop, which overlooks the backyard.

There is real clarity between the industrial shell and the fit-out, a sense that they have in fact converted a warehouse. Domestic elements are restrained, and, as much as possible, are made utilitarian. But to add softness and contrast they have indulged in the rugs, fabrics, and furniture to create the warmth and comfort needed for a home, adding a touch of glamour in amongst the car yards to create a family haven within the city.
INFORMATION
Photography: Simon Devitt