Il Girasole: A House Near Verona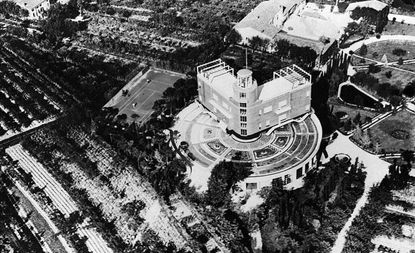 (Image credit: press)
It's no secret that we're partial to a good geometrical structure but when we heard that it is also able to rotate a full 360 degrees, we knew we wanted more. Luckily for us this came in the form of a compelling 17-minute film by Marcel Meili and Christoph Schaub which unviels the story of 'Il Girasole' the rotating modernist house built into the Po Valley hillside in northern Italy.
Watch the video about Il Girasole
Affectionately termed 'The Sunflower', the house was built in the 1930s by architects Angelo Invernizzi and Ettore Fagiuoli, with the help of their artist, sculptor, furniture-maker and architect friends.
Powered by an electric motor, Il Girasole is able to rotate a full 360 degrees on its circular base, highly radical in the way that all the components of the house (including its courtyard) are part of the structure's rotational sphere. The film is simple and direct, juxtaposing the unveiling of the imposing house's engineering detail and history with intimate re-enactments of the architect and his wife interacting with the space, narrated throughout by the architect's daughter.
An education into the purest aspirational form of architecture, the film shows how the intention to build a space can be brought from conception to finished construction without compromise, a demonstration that even the most ambitious undertakings can be seen as prototypes for future structures.