I/O architects' Bulgarian home inspired by a classic car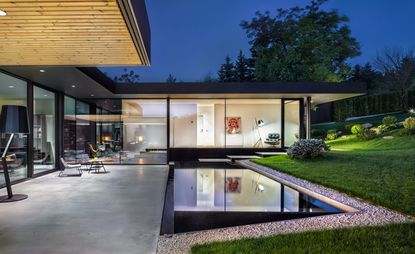 (Image credit: Assen Emilov)
Bulgarian practice I/O architects, headed by Viara Jeliazkova and Georgi Katov, was first born as a long distance collaboration, with Katov living in Japan at the time, and Jeliazkova back in their homeland. In order to mark and celebrate their unusual situation, the two architects decided to christen their practice I/O - from the initials of 'in' and 'out' [of the country].

The firm's newest residential venture is the recently completed Pagoda house in the country's capital of Sofia. The two-storey, single family home sits perched on a hill offering panoramic views from each side, with the front panning over the cityscape, and the rear over the mountains. The building's striking facade consists of a thermally modified fir wood cladding, referencing the wooded mountainous surroundings.

The client, a Bulgarian investment banker, had two important requirements which needed to be catered to; a home in which he could proudly showcase his classic car, while comfortably housing his small family.

The ground floor, which houses mainly utility rooms, is inserted into the mountainside slope; because of the terrain angle, the first floor, which contains three bedrooms, two bathrooms, living, dining, kitchen and a separate living room for the children, is comfortably situated above head height at the front side of the property. This gesture secures privacy for the living and sleeping areas, while the rear entrance of the first floor conveniently leads out directly to the property's garden.

By keeping a simple but carefully selected palette of materials and adding tasteful touches in the generous space, I/O have created a cosy family-oriented home that feels open, contemporary and comfortable; and very importantly, with the prized vehicle located in a dedicated atrium within the entrance hall, as per their client's request. In fact, the interior directly draws on the car's aesthetics, using concrete floors and black metal frames to reference the vehicle's style.
INFORMATION
For more information, visit I/O's website (opens in new tab)