From Form to Formless, Sydney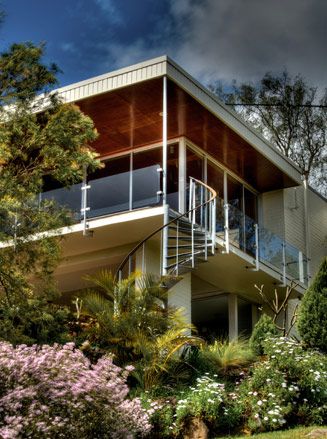 (Image credit: Hugh Buhrich)
Wallpaper* Newsletter
Receive our daily digest of inspiration, escapism and design stories from around the world direct to your inbox
Thank you for signing up to Wallpaper. You will receive a verification email shortly.
There was a problem. Please refresh the page and try again.
Hugh Buhrich's low-profile house in Lilli Pilli, located just south of Sydney, was designed to function as a machine for the running of everyday family life. So motorists arrive to sink below the floating mass of the building's belly. Many of the rooms have uninterrupted views across to the Royal National Park
Australia hasn't always shown much interest in shouting about its most cutting-edge residential architecture. But Patrick Keane – a young Australian architect himself – is putting that to rights. He's been hunting and gathering lesser-known or entirely unfamiliar gems from the past five decades and with photographer friends Brett Boardman and Byron Keane has been capturing his findings.
Keane's hoard comprises delights from eight of Australia's most experimental designers: Hugh Buhrich, Durbach Block Jaggers Architects in association with Peter Colquhoun, LAVA, Harry Seidler, and Associates, Stan Symonds, and Keane's own practice Enter Architecture. The upshot is From Form to Formless, the exhibition Keane has curated at Sydney's Customs House, which runs till 17 October.
The show spans five decades of what Keane calls the experimental undercurrent in Australian design, running from the 1960s to present day. So there's Hugh Buhrich's low-profile house in Lilli Pilli, south of Sydney, with its figure of eight-style circulation pattern; the mono-material Plastic House by Chris Boss's LAVA; and the Harry Seidler-designed Farrell house, with its teardrop shape and central stairway.
But perhaps we are most taken with Stan Symonds' 1960s slick concrete, gravity-defying offerings, dotted around Sydney. The Schuchard House Seaforth has stunning views of middle harbour, and is what Keane calls 'the most famous infamous house in Australia'. When it comes to form embracing technology, futuristic aesthetics, and the influences of the 1960's aerospace and automotive industries, Symonds was king.
Keane says these creations are united by being 'conceptually rigorous, pushing the envelope on every level in terms of construction, respectful of the site and to views'. Even better, they've had little or no press, never photographed, rarely published. It seems that Keane has so far touched just the tip of the iceberg. There are certainly plenty more iconic structures to uncover. And as for their relative neglect in recent years, Keane puts it down to Australia's hearty appetite for high-spec, bells-and-whistles new builds. 'I think the developer-driven marketplace - boxes full of expensive appliances and maximize site coverage - has limited exposure to many of these projects,' he says.
And it's not just locals who should appreciate these uniquely Australian houses, he believes, 'they're worthy of international recognition as well.'
Cowra Place – all the rocky raggedness of the beach below contrasts magnificently with the building's controlled curvatures. Architect Reuben lane has incorporated plenty of glass on the seaward side to ensure splendid views of the terraced garden and beyond
Farrell House – Harry Seidler used what's known as teardrop-shaped planning on this relatively private plot, with a central stairway. It's an unconventional, streamlined solution to a suburban site.
Stan Symonds' Schuchard House on Battle Boulevarde, Seaforth. Completed in 1964, this smooth structure seems to jut over the cliff, giving views over Middle Harbour. Inside, it's like being on the prow of an ocean liner.
Stan Symonds Boronia Lane. With its dome-shell structure and freeform geometries, this double height space has massive glass walls and a nautical balcony. It's surrounded by matured foliage and a water feature.
Stan Symonds Kywong Road – Symonds used a vast palette of materials in this property in Eleanora Heights, north of Sydney. A virtually free-standing staircase looks like a series of ever-taller stools, and an elongated roof offers shade around the whole house.
Receive our daily digest of inspiration, escapism and design stories from around the world direct to your inbox