Exit strategy: Assemble to transform the entrance to Seven Sisters station
Turner Prize-nominees Assemble are ready to set up shop at London's Seven Sisters station ahead of their nine-month-long rejuvenation of the site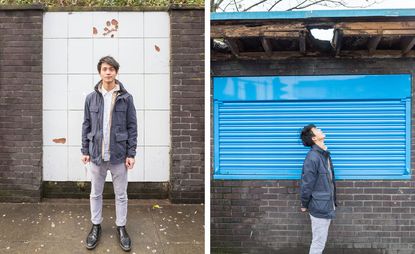 (Image credit: Benedict Johnson)
Turner Prize-nominees Assemble – the 2010-established architecture and design collective responsible for a host of community-minded projects – are gearing up to unleash their creativity on Seven Sisters tube station entrance.

Made up of 18 artists and designers (rather than licensed architects), Assemble's forward-thinking, human-centric style of practicing architecture has given birth to an unbelievable array of groundbreaking projects including a cinema in an abandoned petrol station, a Brutalist Playground at the RIBA, and the Turner Prize-nominated transformation of a derelict Liverpool housing estate.

In Seven Sisters, the collective's mission is to, over the course of nine months, rejuvenate the station's unwelcoming above-ground entrance, Exit B, which has previously had problems with anti-social behaviour. Hinting at what's to come, the group say they will take inspiration from subterranean geology to inform their above ground interventions.

'We started the project by looking into the archives, and watching a fantastic BBC documentary on the making of the Victoria Line,' says Assemble's Matthew Leung and Amica Dall of the project's conception. 'It made us realise how indifferent we had become to travelling underground. You almost don't realise it when you are going when you go down the steps from the street. From this, we started explore the environment around the entrance from Seven Sisters road, and started to think about making an installation there which brings the wildness and abundance of the sidings down, over the retaining wall into the entrance.'

Set to launch early next year, the project's early stages will see the collective set up a base in a disused shop at the station entrance where they will carry out an initial period of research, production and experimentation. This, they hope, will involve a survey of local wildlife and tile making experiments – not only by ceramicists but also station staff and local residents.

The experimentation will culminate in a final design for a permanent 'joyful intervention' at Exit B that will sit at the intersection of art, architecture and design. 'We're excited by the opportunity it presents to experiment with material processes, play with the classic form of the Tube tile and adopt an incremental approach that builds on the existing character of the site,' the practice explains.

It's a quietly understated project that exemplifies Assemble's approach to immersive projects with a focus on strengthening community ties. 'We will be there, working on site, and hopefully some people that use the station regularly will start to develop a relationship with the project, and we hope perhaps join us in the fabrication,' they conclude. 'It'll offer a new site for shared or public activity – and we hope it's one that will be continued after our short stay.'

The project comes under the umbrella of Transport for London's contemporary art initiative Art on the Underground, and specifically its Underline project – a series of commissions set to rejuvenate the Victoria line throughout 2015–16. Other commissioned artists include filmmaker Liam Gillick, who will present a series of short films shot on the tube, and composer Matt Rogers, who will create a piece of music to be performed live in stations by members of the London Sinfonietta during spring 2016. Giles Round will produce prototypes of functional objects that can be used on the tube and Brixton-based artist Zineb Sedira will close the project with a film and photographic series.
INFORMATION
For more information, visit Assemble's website (opens in new tab).