Sky high: Marks Barfield Architects near completion on Brighton's BA i360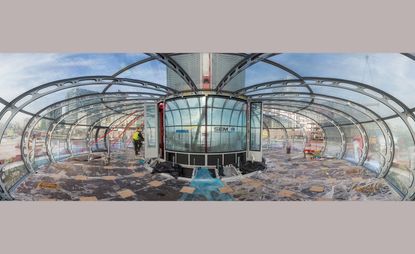 (Image credit: Kevin Meredith)
Brighton's latest cultural draw, the British Airways i360 by Marks Barfield Architects, has reached the final stage in its construction, ready for a celebratory summer opening.

Once completed, the 'world's first vertical cable car' will transport passengers 138m up in the air, making it the UK's highest public observation tower outside of London.

Construction of the viewing pod – a dome-like glass enclosure 10 times bigger than the capsules of the London Eye, another iconic Marks Barfield Architects creation – completed late last week.

Expected to hold 200 people at the same time, the superstructure is no mean feat of design ingenuity. Made from 24 segments of handmade glass, each pane is double glazed and constructed from two laminated, curved sheets glued together and separated from the next double pane by a sealed air gap. Toughened glass such as this cannot be cut to size, so each piece has been precisely formed from inception to fit perfectly into the steel 'ribs' of the dome.

'The team from Poma,' remarks architect David Marks, 'have done a remarkable job, both in terms of the craftsmanship of the handmade pod as well their skillful and swift assembly.' It took them only a matter of weeks to fit together, despite less than ideal weather conditions.

The views will be another thing of true beauty, not least because of the expansive panorama on offer. As well as 26 miles of Brighton & Hove, the English Channel and coastal Sussex landscape on view, 'the mirrored underside [of the glass structure] will cast reflections of the naturally shifting shapes of the sea and sky,' explains Julia Barfield.

Next up on the British Airways i360 agenda will be to test the pod movement, ready for summer.
INFORMATION
Images courtesy British Airways i360