Architecture News: Letter from the Caribbean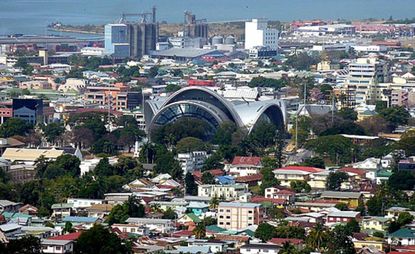 (Image credit: press)
Trinidad
National Academy for the Performing Arts, Port of Spain
Trinidad's oil reserves have made it one of the richest countries in the English speaking Caribbean, though you would not really know it from a walk around down town Port of Spain. Tending to go for urban branding and spectacle over a more subtle distribution of oil wealth, the Trinidad government has put its money in to a few extravagant projects - such as this concert hall. Built by a Chinese construction company for the Trinidad Government at an estimated cost of $500 million, this is a highly controversial project with much outraged coverage in the local media. The question is - who is it for? On my visit - there seemed to be no regular programme for its use and apparently there is no national orchestra who might require such a venue. Time will tell whether the benefit of constructing 'an icon' in terms of nation-branding will outweigh such pragmatic concerns.
Turquoise seas, azure skies, white sand beaches, palm trees - the clichéd image of the Caribbean is familiar the world over. But when it comes to visual culture - the contemporary artists, designers and architects practicing in the Caribbean - there is almost no impression whatsoever. Little is available on the web, partly because the region is a bit behind in terms of internet usage, but also because architecture and cultural guides have tended to overlook contemporary culture, focusing instead on the historical 'Caribbean Style' that dates back to colonial times. So is there anything going on beyond the sun, sea and sand?
The economic development of the Caribbean stems from the 17th to 19th century trade in sugar. At that time, colonists with aristocratic pretensions emigrated from Europe to manage plantations, bringing with them the fashions of both Europe and America in the form of architectural catalogues and pattern books. The adapted Classical architecture that comes from that period is still influential and aspirational in parts of the Caribbean. Renovated plantation houses are highly sought after and even the most basic self-build often alludes to a Classical tradition in the choice of detailing. The influence of African culture brought by the slaves who worked on the plantations also had a profound effect on the region, though less obviously in architectural terms than in other areas.
Today tourism has replaced sugar as the principle economic force in the region and, as in colonial times, the design influences of the wider world are being brought to the Caribbean in the form of luxury accommodation - hotels and holiday homes. This time round, though, the architectural imports typically follow a Modernist tradition, and it could be said that Modernism is becoming the dominant architectural form in the region.
The rise of Modernism is also a result of more pragmatic concerns. While the traditional building material of the region is timber, the extreme climatic conditions - year round heat that can cause fires, a hurricane season and earthquakes - have led to a preference for constructing in concrete. This, combined with the cheapness and simplicity of concrete based construction, plus the wide availability of concrete building products (easily lending themselves to self-build) has meant that concrete architecture now dominates the region's landscape.
As was the case with Classicism before it, this imported Modernism is being adapted to fit with the Caribbean. The importance of shade and the maximisation of ventilation are crucial concerns for building in the tropics and have led to the veranda or covered balcony as a key architectural space in both colonial and contemporary architecture. At the same time, concrete buildings in the region are highly perforated, so as to balance the free flow of air for ventilation, while maintaining security. In colonial times this was achieved through timber louvers integrated with windows, contemporary versions of which are visible in the gallery of architecture above. Meanwhile the cheaper Modern-vernacular favours perforated concrete blocks and elaborate metal grilles.
Many of the Caribbean islands have been formed by volcanoes rising out of the sea (the region lies on a fault line between two tectonic plates). Consequently, constructing in the region often involves building on steep slopes. The integration of water and planting often play key roles, especially in more luxurious developments and there is also an exuberant tendency towards colour and hand painted decoration of smaller vernacular buildings, though this is yet to find its way through to the more high-brow realms of architectural practice.
Gradually the region is waking up and addressing the question of collective cultural identity. Governments are using architecture to try and present themselves as modern countries, art scenes and film festivals are being coordinated on facebook, campaigns are being fought to protect Modern buildings and the architects of the region are holding regular national and Caribbean wide conferences to discuss their work, common themes and their appearance to the outside world.
Here, we illustrate a range of projects from the grandest (hotels and university buildings) to the humblest self-build houses and huts. The hope is to provide a snap-shot of the Caribbean art and architectural scene and bring to wider public attention some of the great architects and work that is being produced in this tropical region.
Trinidad
National Academy for the Performing Arts, Port of Spain
Trinidad
Private house by Mark Raymond, Port of Spain
A key figure in the Caribbean architecture scene, Mark Raymond is an architect and writer based in Trinidad. Having recently won a large master planning and architecture job in China, his future is looking bright. Raymond created this linear glass property, overlooking Port of Spain, for a private client
Trinidad
Architect Mark Raymond's own home, Port of Spain
Trinidad
Architect Mark Raymond's own home, Port of Spain
Barbados
Shoestring House by Architects Cubed
Perceived as a safe haven, largely unaffected by natural disasters that can afflict other islands and with a stable government, Barbados attracts a large amount of both tourism and property development from Britain and the US. Shoestring House by Barbados based practice Architects Cubed, is located in the heart of the fashionable St James district - consequently it is perhaps the least aptly named house on the island. That said, it is also a beacon of contemporary good taste in a location with marked colonial leanings. The raised timber volume on the first floor is a reference to the traditional Bajan Chattel house.
Barbados
Shoestring House by Architects Cubed
Barbados
Shoestring House by Architects Cubed
Grenada
Architecture in St George's
Largely untouched by tourism and with a sleepy feel, Grenada offers a true snapshot of a Caribbean modern vernacular. The capital, St. George's, half-resembles an Italian hill town at dusk. Meanwhile on the east coast, the second town Grenville features an entertaining range of self-build architecture, with elaborate combinations of prefab building products and decorative touches.
Grenada
Architecture in St George's
Grenada
Architecture in St George's
Grenada
Architecture in St George's
Bequia
Bequia House by Edgley Design
Bequia is a small and very beautiful island off the coast of the St Vincent - part of the Grenadines, which also include nearby Mustique. Located at the very top of the island, 'the king of the hill', with incredible views in all directions is this house by London based architect Jake Edgley. Referencing traditional Moroccan courtyards, but also reminiscent of Louis Kahn's Salk Institute, the house uses water to spectacular effect, with the five bedrooms and a vast living room centred around a swimming pool.
www.edgleydesign.co.uk
See our interactive floor plan of Bequia House
Bequia
Bequia House by Edgley Design
Bequia
Bequia House by Edgley Design
St Lucia
Jade Mountain by Nick Troubetzkoy
Jade Mountain is a hotel complex located across the bay from one of world's most spectacular views - the Piton Mountains in St Lucia. The creation of the architect owner, Nick Troubetzkoy, the project combines complete luxury with a contextually and environmentally sensitive Modernism reminiscent of Frank Lloyd Wright's Falling Water house in Pennsylvania. The hotel contains 24 rooms or 'sanctuaries', each with their own private infinity pool overlooking the rainforest beyond and connected back to the sloping hillside behind the hotel via a bridge. An extraordinary building in an incredible setting.
St Lucia
Jade Mountain by Nick Troubetzkoy
St Lucia
Jade Mountain by Nick Troubetzkoy
St Lucia
Jade Mountain by Nick Troubetzkoy
Martinique
Imperatrice Hotel by Charles Glaudon
Like Guadeloupe, Martinique is a part of France - they use the Euro, there are boulangeries everywhere and a predilection for a Corbusian-style Modernism has led to a dense city built almost entirely in reinforced concrete. Consequently there are many interesting Modernist buildings, such as the Imperatrice Hotel (pictured), the 'Monplaisir House' and the church of Saint-Christophe of Dillon.

ADAM (Association for the Defence and Promotion of Modern Architecture in Martinique) and particularly the writer and engineer Jean Doucet, deserve great credit for highlighting and fighting to preserve many of these fine buildings. A Modernist heritage movement is underway in the Caribbean.
Martinique
Church of Saint-Christophe of Dillon by Fernand Tessier and Maurice Creveaux
Martinique
Monplaisir House by Louis Caillat
Dominica
Architecture in Roseau
Like Grenada, Dominica is largely off the tourist trail - its branding as the 'Nature Island' attracting the more environmentally-interested Caribbean visitors rather than the sun-worshipping masses. With nine of the Caribbean's sixteen active volcanoes located on the island and numerous bubbling sulphur springs, the moniker seems well deserved if slightly understated. In terms of architecture, as on Grenada, there is an eclectic array of modern vernacular projects, with quirky twists and eccentric touches often in vivid Technicolor.
Dominica
Architecture in Roseau
Guadeloupe
Architecture in Pointe-à-Pitre
Like Martinique, the French owned island of Guadeloupe, has a very different (European) feel to the rest of the Caribbean. Following a series of hurricanes and a wide spread fire in 1931, the capital Pointe-à-Pitre was rebuilt in reinforced concrete under the direction of master architect Ali Tur. The end result is a riot of Modernism, reminiscent of Tokyo but with a Caribbean twist. Tragically the city, despite the architectural quality, is becoming increasingly disused due to the development of large out-of-town shopping centres - popular for their ease of parking. The Lonely Planet's description of Pointe-à-Pitre at night, 'where it seems like the extras from the Thriller music video got lost and discovered the joys of crack cocaine', is probably an overstatement, but only just. Strong government intervention is required to breathe new life back in to what should be a fantastic city.
Guadeloupe
Architecture in Pointe-à-Pitre
Guadeloupe
Architecture in Pointe-à-Pitre
Guadeloupe
SCUIO Building, Campus de Fouillole, by Pile et Face, Pointe-à-Pitre
The French version of the coin tossing game 'heads or tails' translates as 'pile ou face'. The implication in the name of Guadeloupe-based architecture practice Pile et Face is that their clients will win both ways. And with a strong body of sophisticated contemporary work, this name certainly looks like it is well chosen. Headed up by two partners Marc Jalet and Emile Romney, Pile et Face's work covers a wide range of projects, including one off villas, university buildings (illustrated) to urban scale regenerations. One of the most interesting architecture practices in the region.
Guadeloupe
SCUIO Building, Campus de Fouillole, by Pile et Face, Pointe-à-Pitre
Caribbean wide
Handmade graphics
Fans of hand painted and sometimes naive decoration - what the British artist Jeremy Deller refers to as 'folk art' - will delight in the Caribbean's walls and signage. Perhaps due to the lack of prevalence of the computer and large scale commercial printing, graphic communication in the Caribbean typically still involves reaching for an artist's brush rather than a computer mouse. Combined with a tendency towards the use of vibrant colour, the hand-painted graphics often extend beyond shop signage to the whole-scale decoration of small buildings, retail huts and restaurants.
Caribbean wide
Handmade graphics
Receive our daily digest of inspiration, escapism and design stories from around the world direct to your inbox