Architecture Club designs a new atelier for artist Monika Sosnowska in Warsaw
An architectural exercise in purity and restraint, Polish sculptor Monika Sosnowska's new atelier is a simple concrete volume, and the first-built project of Basel-based architects Karolina Slawecka and Pawel Krzeminski under their new studio. Photographed by Hélène Binet, the radically simple atelier was featured in the Smart Art-themed November issue of Wallpaper* magazine (W*248)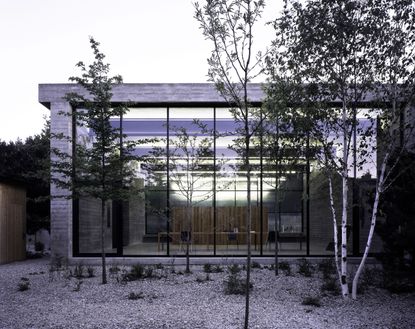 (Image credit: Hélène Binet)
There is a row of small models sitting on the smooth, grey terrazzo bench at artist Monika Sosnowska's new atelier in Warsaw. It's surprising that her monumental works – vast brutal collages of welded steel and cast concrete contemplating constructivism and modernism – all start as dainty three-dimensional sketches in wire, cardboard and paper.

Minimal and tidy, her voluminous concrete and glass studio lends itself to pure, undistracted experimentation.

When Sosnowska bought the plot of land neighbouring her home and former studio space, she was seeking more room to work on a larger scale, and the continuation of her pleasant commute through the garden to work. Beyond that, what inspired her was what an empty space could bring to her artistic process.

She picked up the phone and called Basel-based architects Karolina Slawecka and Pawel Krzeminski, whom she had met at Art Basel in 2004, where Slawecka had helped bring one of her artworks to life. She caught them at a good time. It had been two weeks since they decided to leave their respective posts, at Herzog & de Meuron and Atelier Peter Zumthor, to co-found their own studio, Architecture Club.
Swiss precision and first-project pressure meant pushing themselves to the limit to reach the 'best, most radical' solution for Sosnowska. It required searching, then re-searching, and thinking, then re-thinking, until the solution was at its most functional, and importantly, most extreme: 'Just two walls and a slab,' says Krzeminski.

The 5m by 12m concrete frame, with a steel structure and two glazed façades, may look effortless, but it is the result of a two-year process. All the utilities are hidden in that form, including heating, cooling, an alarm system and acoustic panels. The smooth terrazzo bench levels the atelier up to the street. Light glows from behind the steel I-beam frame that will soon be fitted out with an art crane to suspend and lift heavy works, leaving Sosnowska with a void – the 'best, most radical' void – of light-drenched space, filled with undefined artistic potential.

It's also filled with a custom-made service station and parallel table, both in solid oak. The pieces feel architectural; they 'belong to the space'. The cuboid station unfolds into a kitchen, storage area and a toilet, while the table hosts a series of models featuring red spikes poking out from a mini polystyrene base.
The design – 'two walls and a slab' – was at its most functional, and most extreme
Artist and architects found common ground in model-making. 'We brought suitcases from Basel filled with different models,' says Slawecka. And when they arrived, the modelling process continued. They mocked up 1:1 sections of the building façade on site – Krzeminski calls it 'testing by physical reality' and there's even a prototype corner of the building buried somewhere under the studio.

'Karolina made a beautiful model with Monika. They were cutting cardboard and Plexiglas, and quickly gluing it all together,' he says. By the time they finished, they had reached the final idea for the space. It captured how light would travel through the building, the roughness of the materials and their industrial references.

The concrete formwork of the walls nods to the coarse timber of early shed-like buildings found in the once-rural suburban neighbourhood. The translucent glass of the street-facing façade, reinforced with gridded wire, blurs outside activity and brings privacy, while the regular glazing to the north reveals the tranquil garden scene with clarity.

The façade was welded on site by the same contractor who works on Sosnowska's sculptures. 'It was the natural thing to do. She had the know-how and the people,' says Slawecka.
It was Sosnowska's open mind that allowed them to reach the 'best, most radical' solution: 'We discussed details with Monika that we wouldn't usually discuss with a client. She understands proportions in a beautiful way. Whether you're designing for one person or 1,000, the principles are the same. It's the intimacy with the client that becomes more specific when designing for one.'

Slawecka and Krzeminski are well-versed in working on art-related buildings: Slawecka led the LACMA project at Atelier Peter Zumthor; and while at Herzog & de Meuron, the pair worked together on the Tate Modern extension – specifically on its staircase, the spinal chord that shifts from animated public space to rudimentary step-way: 'The team was stuck, and Jacques and Pierre asked us to work on it for a few months for a bit of freshness,' says Slawecka.

And fresh they still are. They say they are fairly 'old' to be starting their own thing. But as they move through the space, playfully finishing off each other's sentences, recalling laugh-out-loud anecdotes and off-the-record moments, Slawecka and Krzeminski seem anything but old. In architecture years, they are still young, and with this first project completed, it certainly feels like the start of something. §

As originally featured in the November 2019 issue of Wallpaper* (W*248)
INFORMATION
architectureclub.ch
Harriet Thorpe is a writer, journalist and editor covering architecture, design and culture, with particular interest in sustainability, 20th-century architecture and community. After studying History of Art at the School of Oriental and African Studies (SOAS) and Journalism at City University in London, she developed her interest in architecture working at Wallpaper* magazine and today contributes to Wallpaper*, The World of Interiors and Icon magazine, amongst other titles. She is author of The Sustainable City (2022, Hoxton Mini Press), a book about sustainable architecture in London, and the Modern Cambridge Map (2023, Blue Crow Media), a map of 20th-century architecture in Cambridge, the city where she grew up.