Baselworld 2016: Rolex revisits the Oyster Perpetual Air-King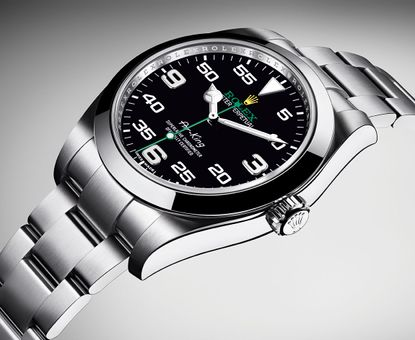 (Image credit: press)
One of the highlights of Baselworld 2016 was a brand new iteration of one of Wallpaper's all-time horology favourites: Rolex's classic Oyster Perpetual Air-King.

Continuing the story of aeronautical heritage that began with the original Rolex Oyster, the new steel-cased Air-King features a distinctive black dial with a combination of large three, six and nine numerals marking the hours and a prominent minute scale for navigational time readings. The dial bears the name Air-King in the same lettering that was designed specially for the model in the 1950s.

The Air-King name refers to Rolex's privileged ties with pilots and aeronautical adventurers since aviation's golden age during the 1930s. One of the pioneers of this era, English aviator Charles Douglas Barnard, set a number of flight records and always wore an Oyster whilst in the cockpit.

'The peculiar qualities of this Rolex watch render it eminently suitable for flying purposes,' said the pilot. 'I propose to use it on all my long-distance flights in the future.' In 1933, Oyster watches accompanied the Houston Expedition as it made the first-ever flight over Mount Everest at an altitude exceeding 10,000m (33,000 ft) in extreme weather conditions.

In 1934, Owen Cathcart-Jones and Ken Waller made a return voyage from London to Melbourne in record time with a twin-engine De Havilland Comet, using a Rolex Oyster as their on-board chronometer.

In case one's aircraft has to make an emergency landing on the ocean, the new Air-King's Oyster case, always a paragon of elegant robustness, is guaranteed waterproof to a depth of 100m (330 ft). The middle case is crafted from a solid block of corrosion-resistant 904L steel, its fluted case back hermetically screwed down with a special tool that allows only Rolex watchmakers to access the movement. Fitted with the Twinlock double waterproofing system, the winding crown screws down securely against the case. The crystal is made of virtually scratchproof sapphire while the waterproof Oyster case provides optimum security for the Air-King's high-precision movement via a shield that protects against magnetic fields, an essential feature of Rolex pilots' watches of the past. Chocks away.