The China List: Louis Vuitton, Fashion
Wallpaper* and China's Cultural Heritage and Sustainable Development Fund (CHSDF) present China By Design—a celebration of Chinese cultural heritage and the many global creatives who have been inspired by it.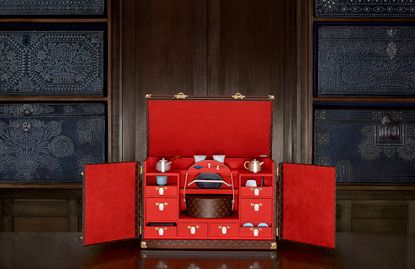 (Image credit: Tommaso Sartori)
In line with Louis Vuitton's travel-focused mantra (which stems from the Parisian brand's beginnings as a luggage purveyor), its collections journey aesthetically across time zones and countries. For S/S 2011, its then creative director Marc Jacobs and men's studio director Paul Helbers both explored the iconography of the East. Jacobs presented sparkling evening wear that riffed on the seduction of Old Shanghai, including thigh-revealing satin qipao, Mandarin-collar halter necks, plus panda and tiger-motif blouses and knitwear, accessorised with fans and trailing beaded earrings. Elsewhere, Helbers' relaxed yet luxurious silhouettes included blazers and travel bags laser-cut with dragons, Oriental print scarves and leather bracelets strung with golden coins.
Louis Vuitton has form when it comes to travelling around Asia: in 1907, the house was partner in the inaugural Beijing-Paris automobile rally, providing practical trunks for the adventure; in 1931, over 100 trunks were provided for another Asian rally. Examples of these designs were featured in 'Volez , Voguez, Voyagez', the maison's 2018 luggage-focused show at the Shanghai Exhibition Center. This also featured trunks customised by Chinese artists Xu Bing and Ding Yi.
INFORMATION