The China List: Christian Dior, Fashion
Wallpaper* and China's Cultural Heritage and Sustainable Development Fund (CHSDF) present China By Design—a celebration of Chinese cultural heritage and the many global creatives who have been inspired by it.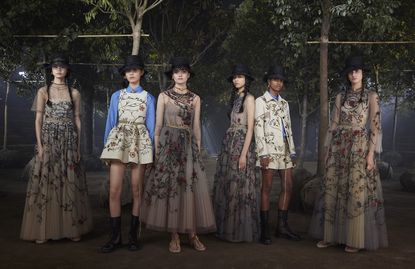 (Image credit: Wang Ziqian)
Dior has celebrated Chinese aesthetics since its inception in 1947. Christian Dior's very first collection for the Parisian house featured not only its radical waist-defining 'Bar Jacket' silhouette, but also a 'Shanghai' overcoat, worn with a traditional Tonkinese hat. Although Monsieur Dior had never travelled to China, he was inspired by the exotic décor of his childhood home, and continued to pay tribute to the Orient throughout the 1950s, referencing China's calligraphy, qipao silhouette, and Tang dynasty blue in various collections.
In his role as creative director of Dior (1996-2011), John Galliano also found China an endless source of inspiration. His first S/S 1997 haute couture collection referenced Chinese-style shawls such as those worn by 1920s/30s Hollywood actress Anna May Wong. The country's cinema, symbols and silhouettes all informed the designer, whose theatrical 2003 haute-couture collection was inspired by a trip to the Beijing Opera, and described by Sarah Mower as boasting 'multicoloured volumes of fabric that mixed East and West, ancient and modern'. In 2008, the house also strengthened its link with China's contemporary art world, staging the exhibition 'Christian Dior and Chinese Artists' at the UCCA Beijing.
Christian Dior's current women's artistic director, Maria Grazia Chiuri, continues to strengthen the house's Chinese connection. In 2018, she designed a China-specific haute-couture capsule collection, featuring caped jackets and cascading tulle ball gowns in vibrant red, a nod to the Chinese lucky colour. Presented in Shanghai in October 2019 with 14 country-exclusive runway looks, her S/S 2020 collection featured floral embroideries and a China Rose print, inspired by 'the beautiful Mutabilis rose, which arrived in Paris from China around the 17th or 18th century and became very popular with Marie Antoinette', explained Chiuri.
INFORMATION