Polska Revealed: Warsaw's leafy Saska Kępa neighbourhood is a treasure trove of modernist gems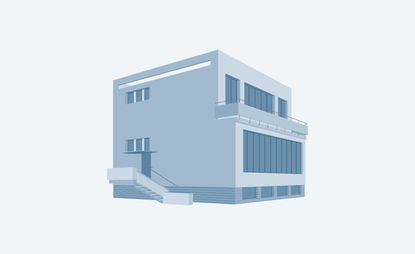 (Image credit: TBC)
26 Katowicka Street: Designed by husband-and-wife team Helen and Szymon Syrkus and completed in 1936, this is an elegant example of a simple and spacious family home. Built for a carpet tycoon, Witold Kiltynowicz, and his Swedish actress wife Elna Gistedt, the house's strengths include the lightness of its entry steps, the gentle 'grand piano curves' of the rear wall, and the spaciousness of the interior
Just across the Vistula River from Warsaw's city centre is Saska Kępa, a leafy enclave of modernist villas. The first people to build homes here in the 1920s were largely well-heeled creatives – artists, actors, musicians and architects – as well as high-level officials and businessmen. They wanted modern, functional homes and commissioned young architects, the first graduates of Warsaw University's Faculty of Architecture, founded in 1915, to design them.
One of the first buildings erected in the spirit of functional avant-garde architecture was the Lachert residence at 9/11/11a Katowicka Street (unlucky number 13 was bypassed), completed in 1928. The designers were Bohdan Lachert and Józef Szanajca, who would go on to become one of the best-known architectural duos of pre-war Poland, as well as members of the celebrated Praesens group. The chance to design for Lachert's own family opened up creative opportunities that they eagerly embraced. Indeed, the project allowed the pair to apply the fruit of Szanajca's trip to Stuttgart in 1927, where, at the Werkbund Exhibition in Weissenhof, he had seen work by Mies van der Rohe, Walter Gropius and Le Corbusier.
The Lachert-Szanajca duo also designed a small apartment building at 28 Berezyńska Street for the Ordowski brothers, owners of a car repair business. The building featured access balconies, providing an innovative circulation scheme for maximum utilisation of the small lot.
Another duo designing in Saska Kępa was the husband-and-wife team of Helen and Szymon Syrkus, who had strong ties with the European architectural avant-garde, especially Le Corbusier. Their small villa at 26 Katowicka Street was designed for a carpet tycoon, Witold Kiltynowicz, and his wife, Elna Gistedt, a Swedish singer and actress who arrived in Poland for a tour at the start of the 1920s and never left. The house, with its compact, thoughtful layout and large, south-facing windows, is an excellent illustration of Le Corbusier's definition: 'Architecture is the masterly, correct and magnificent play of masses brought together in light'. Two other works by the duo in Saska Kępa include the austere building at 12 Walecznych Street, and 8 Estońska Street, which is characterised by the use of rusticated granite rock at ground-floor level.
One of the district's standout gems is the villa designed by Lucjan Korngold and Piotr Lubiński for the Łepkowski family at 2 Francuska Street. It's an elegant, white building that features a stunning terrace and spiral staircase leading out on to a sizeable garden. Korngold would later go on to design several houses in Tel Aviv's White City, as well as a number of significant buildings in São Paulo.
In addition to the already mentioned Lachert (9/11/11a Katowicka Street) and Korngold (3 Królowej Aldony Street), many architects lived in Saska Kępa in the houses they designed. One of the first female graduates of the Faculty of Architecture, Jadwiga Dobrzyńska built an elegant Le Corbusier-esque villa at 6 Estońska Street together with her husband Zygmunt Łoboda. Julian Ambroziewicz also lived in a house of his own design on Obrońców Street.Strolling through the streets of Saska Kępa today, it is still possible to sense the small-town atmosphere of this district in spite of its proximity to the city centre. Built up between the wars, it thankfully survived the Second World War, leaving a legacy of radical modernist architecture that makes it well worth the tram ride over the river.
See more from our Polska supplement:
The project has been made possible with the support of the Adam Mickiewicz Institute, as part of the programme aimed at promoting Polish design worldwide www.culture.pl
10 Katowicka Street: Currently overgrown with vines, this family home was designed by Marian Lalewicz in 1939. Restrained in expression, it combines unobtrusive scale with monumental elements. This late design by an already recognised architect is an interesting example of making an entry into the avant–garde context of a district that had been shaped by the projects of younger colleagues
9/11/11a Katowicka Street: Designed by Bohdan Lachert and Józef Szanajca for the Lachert family, and completed in 1928, the innovative frame structure of this triple residence used the application of Le Corbusier's five principles of modern architecture: the free design of the façade, the free design of the plan, roof gardens, horizontal windows, and pilotis (columns that raise the ground floor)
2 Francuska Street: Designed in 1934 by Lucjan Korngold and Piotr Lubiński for the Łepkowski family, and built on the site of a legendary tavern, it is the rear of this building that is particularly impressive. It features a large window and extended terrace, supported by a single column, around which a spiral staircase wraps
6 Estońska Street: In 1932, Jadwiga Dobrzyńska built an elegant, Le Corbusier-inspired villa at 6 Estońska Street with her husband Zygmunt Łoboda to serve as their home and studio. Sadly, the building has since been significantly remodelled. The addition of a semi-detached building next door altered its compact design, and the house originally featured a bold slat running along the entire length of the rooftop terrace, of which only a small portion survives today
28 Berezyńska Street: Built in 1936 by Lachert and Szanajca for the Ordowski brothers, this building had balcony access, an innovative design feature at the time. It allowed for inexpensive construction on a narrow plot without relying on long, dark internal hallways. The building, which lies perpendicular to the street, is softened compared with earlier, austere designs, and bears the gentler accents of 1930s modernism. Notable is the sculpted shaping of the street side façade, where two twisted masses seem to be enmeshed like a zipper