Work of art: the final brush strokes are in place at Locanda al Colle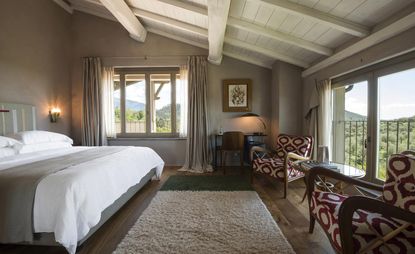 (Image credit: TBC)
Ever since opening its seasonal summer doors in 2010, Locanda Al Colle has become something of a destination for the design and architecture cognoscenti, with many illustrious industry names journeying to this hillside retreat over the years. However, while the house has been extended to include two neighbouring properties, there is no modernism here – and it's not the architecture that appeals, but the spirit and passion of co-owner and proprietor, Riccardo Barsottelli.

This season marks the final extension of the property into surrounding grounds, with all the rooms now complete. This labour of love is about to have its heyday. Long may it live. Located on a steep hill, a five-minute drive from the private beaches of Camaoire, the now 800 sq m lodging – which started off as a 250 sq m property with no pool – has 12 rooms and suites, seven of which have their own terraces.

Italian Barsottelli, an enigmatic man, who spent the 1980s in London collecting objects and art through galleries including David Gill, decided after many years in the business, to return to his home country, where he had to auction off most of his collection to finance this project. However, his true love remains, and the odd pieces – from a Cocteau plate to Robert Marc's cubist paintings and Beaton's portrait of Mel Ferrer – can be spotted melding seamlessly through the interior scenario as one casually wanders through the common parts of the house.

Meanwhile, the garden is peppered with sculptures from the nearby marble and stone artistries, with recent additions including pieces from The Tower of Babel by Barnaby Barford, first seen at the V&A. Of course, all furniture is original vintage, again collected in the 1980s, re-conditioned and interestingly augmented by new fabrics courtesy of Madrid-baed Gaston y Daniela.

Like the original and first boutique hotel, Morgans, in New York in the early 1980s, there is no bar, although for a very different reason. Honesty. There is no reception at Locanda al Colle, just a dining room and a couple of uber stylish kitchens with visible staff. It is a house after all.

Bed is one thing, breakfast another. And omnipresent chef Gianluca visits the local mill to specially select the flour for his fresh bread daily. The Locanda is a complete work of art and the final brush strokes are place. The utter luxury is that you don't have to put your hand in your wallet for the duration of the stay – the F&B at this B&B just flows.

Dinner is served just three times weekly for guests, no interlopers, and local restaurants are on call for all needs. For all its accolades, The Locanda, even in the light of its brand new glory, remains demure. Its tenor suits us at Wallpaper* just fine.
INFORMATION
For more information, visit the Locanda al Colle website