Street view: Maboneng Precinct in Johannesburg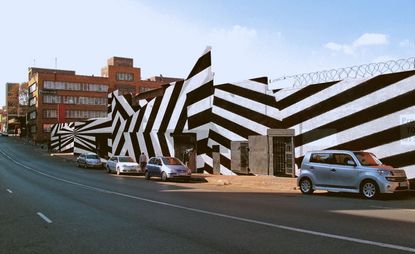 (Image credit: artist Stephen Hobbs)
Jonathan Liebmann is one of those born-entrepreneur types you read about in business magazines; the sort who takes on seven paper rounds at 12 and has a series of business adventures and misadventures before finding an all-consuming commercial calling. For Liebmann, after running a chain of laundromats and a mobile coffee maker, that calling was real-estate development.

Born in Johannesburg, the son of an interior designer mother and banker/artist father, Liebmann first developed a number of flats when he was just 18. But the light-bulb moment came when he developed an old factory into an apartment for himself and imagined a new, profitable life for Joburg's stockpile of empty industrial buildings.

In 2008 he formed Propertuity, bought the old offices and warehouses of a construction company east of the inner city and recruited local architect Enrico Daffonchio to help him turn the buildings into a buzzy hub that would draw the city's creative types.

Having studied the form in creative quarters from São Paulo's Vila Madalena to London's Shoreditch, Liebmann knew he needed art heavyweights as anchor tenants. Artist William Kentridge and photographer Mikhael Subotzky signed up for studio space and soon the development, Arts on Main, was fully tenanted. It opened in 2009 with galleries, a restaurant and design stores.

After its success, Liebmann decided he was not just a property developer but rather a 'community developer', and he would create a new neighbourhood that would tempt young professionals, black and white, out of their gated communities. In 2010, he opened Main Street Life, a 1970s warehouse-turned-apartment building that also houses an independent cinema and boutique hotel. And last year, he added The Main Change office development, including the inevitable co-working space for start-ups and freelancers.

Liebmann's operation now owns 35 buildings spread across a square-kilometre area he has christened the Maboneng Precinct. All of this has been done without government assistance, although Propertuity has just started a partnership with the Johannesburg Development Agency to upgrade the pavements. Liebmann remains a de facto mayor of Maboneng, a benevolent landlord and social architect, but he denies control-freakery and utopian inflexibility. 'I definitely have a mission to turn Maboneng into the best neighbourhood in the world, but I am very flexible in the way it plays out.'

The stockpiling of property was, in part, Liebmann says, to make infrastructure improvements commercially viable. He has started improving transport links, including operating a shuttle bus service. As the precinct grows - Liebmann plans to double the community's size every year - he will look at healthcare and education provision.

The area is also becoming a tourist draw and Liebmann is in talks with a major hotel chain to open a 150-room hotel in the area. He has been asked to take his particular (and profit-driven) brand of urbanism to other South African cities. But for now he is concentrating on what he calls the 'massive mission that is Maboneng'. 
ADDRESS
Propertuity
20 Kruger St
Johannesburg 2094
Receive our daily digest of inspiration, escapism and design stories from around the world direct to your inbox