Nightlife entrepreneur Benjamin Patou gives the legendary Lapérouse a new lease of life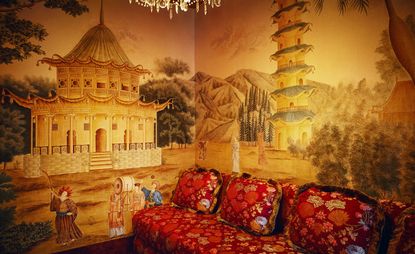 (Image credit: TBC)
If there is one institution that summarises Paris' history, it's Lapérouse. The legendary Rive Gauche restaurant has witnessed the city's cultural zeitgeist since it was built by Monsieur Lefèvre, the king's wine merchant, in 1766 but, it was only a century later, after Jules Lapérouse bought it and gave it his name, that it became Paris' most celebrated restaurant; A place that Émile Zola, Victor Hugo, Charles Baudelaire and Marcel Proust lunched, where senators dined with their mistresses, Jean Cocteau got drunk with Roland Garros and Serge Gainsbourg first set eyes on Jane Birkin.
Now, the legend has been reborn, thanks to entrepreneur Benjamin Patou, founder of Paris' nightspot empire, Moma Group, which includes notorious landmarks such as Froufrou and Manko. Together with the Berluti chief executive Antoine Arnault, a shareholder and first-time restaurant investor, the pair tapped interior designer Laura Gonzalez, who reworked much of the interiors, including the bar area and two dining rooms.
Gonzalez was committed to renewing the space while remaining faithful to its spirit and history; narrow, carpeted corridors lead to a multitude of private salons, often named after the restaurant's most notorious clients, like the Salon La Belle Otero that pays homage to he Belle Époque courtesan. There are rich embossed leather walls, restored frescoes, and the legendary Venetian mirrors, on which cocottes scratched messages to test their newly gifted diamonds, are, of course, still hanging in the bar. Frosted glass doors, table dressings, the menu illustrations, and Bernardaud floral china – with a new 'L' logo – are by Cordelia de Castellane, the creative director of Baby Dior and Dior Maison.
The menu is just as timeless as the décor. Crafted by Jean-Pierre Vigato, previously of Apicius, it relies on simplicity, French classics and locally-sourced produce. Among the specialties are the oysters, duck foie gras, ris de veau and roasted lobster, all accompanied by a selection of wines picked at the restaurant's cave, famous for its more than 7000 bottles of Bourgogne. Puddings, created by pastry chef Christophe Michalak, put a contemporary spin on rich vintage recipes and include profiteroles, rose savarin and caramel milefeuille. Definitely worth a detour to the city of light.
Frosted glass doors, table dressings, the menu illustrations, and Bernardaud floral china - with a new 'L' logo - are by Cordelia de Castellane, the creative director of Baby Dior and Dior Maison
Narrow, carpeted corridors lead to a multitude of private salons, which feature details such as rich leather-embossed walls
The legendary Venetian mirrors, on which cocottes scratched messages to test their newly gifted diamonds, are, of course, still hanging in the bar
The menu is just as timeless as the décor. Crafted by Jean-Pierre Vigato, previously of Apicius, it relies on simplicity, French classics and locally-sourced produce
INFORMATION
Website (opens in new tab)
ADDRESS
51 Quai des Grands Augustins
VIEW GOOGLE MAPS (opens in new tab)