Luxury living: Aman launches its grandest villa at Amanzoe, Greece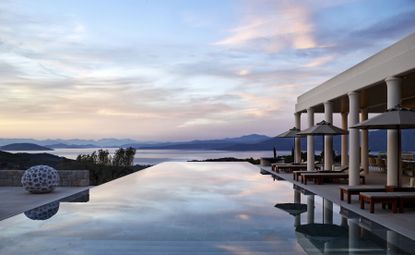 (Image credit: press)
Despite its economic woes, it seems life goes on for the super-wealthy in Greece, where in recent years, Porto Heli - and its surrounds - has become the country's equivalent of the south of France. Located on the southern tip of the Peloponnese peninsula, the resort town takes full advantage of its alluring coastline, agreeable weather, and glistening views of the Aegean Sea.
Now, just to prove the point that you can never have enough lavish accommodation, Amanzoe - one of the 30 or so hotels managed by luxury group Aman - has launched Villa 20, a privately owned residence available to rent for those seeking the top drawer service and amenities the brand is best known for, but with the privacy and exclusivity of an independent property.
Set over four acres of land atop a hill strewn with olive groves, the residence - spread over six levels to allow maximum views of the island of Spetses and beyond - comprises nine bedrooms, seven pools, a series of living and dining areas, a state-of-the-art gym with an outdoor yoga terrace and even its own spa. And while the term 'villa' does not do it justice, the property does endeavour to imbue the mood of a private home, thanks to the owners' carefully curated selection of art, books from their personal library and artefacts gathered over their years of travel. 'There are a lot of personal touches,' says Sven Van Den Broeck, General Manager of Amaznoe. 'The owners really had a vision for what they wanted.'
Like the hotel, Villa 20 has also been designed by Ed Tuttle - the doyen of Aman architects - who has been given what looks like a blank cheque to create the grandest of all villas in the Aman portfolio. Well versed in the brand's philosophy, he has kept within the realm of Amanzoe's sleek minimal aesthetic, but - on the request of the owners - has subtly altered the material and the colours of the furnishings to add a dash of richness to an otherwise neutral palette. 'The architect will provide the design grid you can work within,' explains Van Den Broeck. 'The together, you can make slight modifications to the villa to meet your personal needs. All villas are essentially an extension of the resort, hence aesthetically in line with the hotel.'
Inspired by classic Greek architecture, Tuttle's imposing tiered design allows for optimal views, with flat roofs supported by graceful colonnades, creating the perfect set-up for unobstructed panoramas, while establishing a sense of flow and openness between the external an internal spaces. Meanwhile inside, high ceilings and cold materials such as marble and natural stones are tempered by warming oak accents.
If the scale and the solitude prove too much, Villa 20 is just a short golf buggy ride away from Amanzoe, where its spa, spectacular yoga pavilion, two restaurants, bar and library awaits.
INFORMATION
Website (opens in new tab)
ADDRESS
Agios Panteleimonas site
Kranidi
VIEW GOOGLE MAPS (opens in new tab)