Fuenso International Shoe Design Awards at Hospes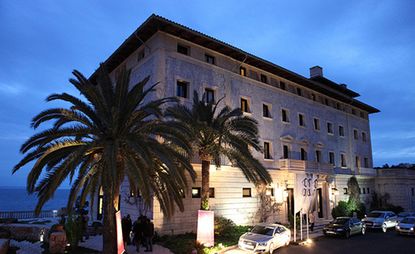 (Image credit: Press)
In April, Wallpaper* went to check out the launch of the Fuenso International Shoe Design Awards at Hospes Maricel in Mallorca.
Comprised of multiple brands, Fuenso focuses on finding the best life quality for guests with its hotels (Hospes), events, cuisine, spa treatments and bedding. This is the second time the Maricel has seduced us - it won Best Suite for its new Pool Terrace Suite in 2009 - and we like Hospes' concept so much that we are collaborating on a special project for our Handmade issue in August.
The Fuenso International Shoe Design Awards went smoothly, surrounded by the sea, delicious food and well-heeled, beautiful people. MBT picked up the 'Energy' award, Ursula Mascaro won the award for 'Care' and Pura Lopez Propuesta 2, the award for 'Seduction'.
Melina Keays is the entertaining director of Wallpaper*. She has been part of the brand since the magazine's launch in 1996, and is responsible for entertaining content across the print and digital platforms, and for Wallpaper's creative agency Bespoke. A native Londoner, Melina takes inspiration from the whole spectrum of art and design – including film, literature, and fashion. Her work for the brand involves curating content, writing, and creative direction – conceiving luxury interior landscapes with a focus on food, drinks, and entertaining in all its forms