Designer dining: the relaunch of chef Nicolai Nørregaard's Kadeau Copenhagen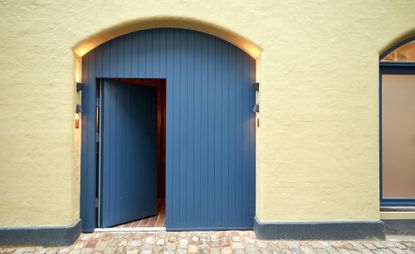 (Image credit: press)
Apart from a small brass plaque bearing its name, there is nothing else to suggest what lies behind the blue door on this quiet, cobbled street in Copenhagen. A smart move from chef Nicolai Nørregaard and his two partners, whose intention was to create a sense of intimacy for the re-opening of Kadeau, the city outpost of their original restaurant – of the same name – located on the shores of Bornholm, a picture-perfect island in the Baltic Sea. 'After first opening in Copenhagen, we became very popular and the restaurant quickly became too small,' says Nørregaard, attempting to explain their somewhat complicated journey. 'We moved to a bigger place, which is where we received our first Michelin star, but we quickly found out that it was too big!'

By now, also harbouring ambitions to produce more complex food, they went on the hunt again, to find a suitable venue to deliver the full experience. And third time lucky, the new spot – just next to the second one – is a winner. Tasking Thomas Lykke, of local studio OEO, with the brief to create a warm and cosy space much like a private apartment, they opted to flip the standard restaurant layout around, making the kitchen the first encounter. 'We wanted to place the kitchen right in the middle, so that everyone has to walk through it to get to the dining room,' explains Nørregaard. But while an open kitchen is not uncommon, designing a professional version that gives the impression of being domestic is. The answer was to join forces with a series of collaborators that included local high-end cabinetmakers Garde Hvalsøe, Danish wood company Dinesen and Swedish appliance brand Electrolux, whose Grand Cuisine range specifically provides professional kitchen equipment for home use.

The result is highly personal and immersive. Garde Hvalsøe has slickly accommodated all of the appliances while putting Dinesen's famous floorboards to good use, creating tactile, functional surfaces. 'Nicolai had already choreographed the way the chefs should be working in the kitchen,' explains Søren Lundh Aagaard, co-owner of Garde Hvalsøe. 'This is not a private kitchen; we had to fit in a lot of hard-core appliances while honouring the Kadeau setup.'

The dining room meanwhile, is elegantly understated with considered lighting and clean lines in a low-key palette with hints of blue, grey and dusty pink. Lykke has wisely continued with the timber, alternatively using Dinensen's Douglas fir to create a classic herringbone pattern, stained with dark oil, for the flooring. This, along with a sprinkling of touches, such as the ceramic crockery from Bornholm-based studio Lov i Listed, are a subtle reminder of the restaurant's seaside roots.

The food of course, is undoubtedly Bornholm. Inspired by the natural produce of his home island, Nørregaard's menu is a visual feast of foraged fruits, herbs, berries and flowers that have been pickled, dried, salted, juiced and cured to produce wonderfully tasty dishes from grilled oysters with kale, parsley and hemp to cold and warm smoked salmon with elderflower, gooseberry and fig leaf. 'The DNA of our kitchen is the nature of Bornholm,' says Nørregaard. 'What we forage and serve in Bornholm, is what we serve in Copenhagen.'

With the Bornholm restaurant having just gained its first Michelin star, further adding to the Danish culinary success story, the country isn't exactly short of fine dining options. The trick is offering a different experience, which – it seems – Kadeau is doing with cool aplomb.
INFORMATION
ADDRESS
Wildersgade 10b
VIEW GOOGLE MAPS (opens in new tab)